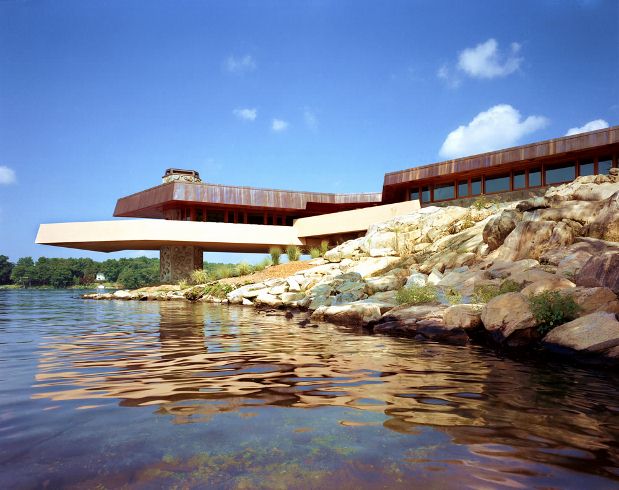 Frank Lloyd Wright for sale - but is it authentic?
Scholars dispute the authenticity of this Petre island home, built from Wright plans drawn up over 50 years ago
When it comes to fine art, provenance partly determines price. Yet what influence does it have in the world of architecture? One home owner is putting this to the test, by selling his home as a Frank Lloyd Wright house, despite Wright having died nearly 50 years prior to its construction.
The building in question is on Petre, a private island on Lake Mahopac, New York and the owner is the erstwhile building contractor, Joe Massaro. As The New York Times reported back in 2004, plans for a house on the island were successfully commissioned from the iconic American architect back in 1950. However, the then-owner could not afford to have the 5,000-square-foot single-story home completed.
Mr Massaro acquired the island in 1996, and, though he had no strong plans to build a home on the plot, he later learned that the island came with rights to the Wright drawings. Massaro told The Guardian that he approached the late architect's estate with a view to making good the new building's provenance. However, reportedly averse to the fees they were demanding, he instead employed the architect and Wright scholar Thomas A. Heinz to flesh out a design around the 50-year-old drafts for the structure.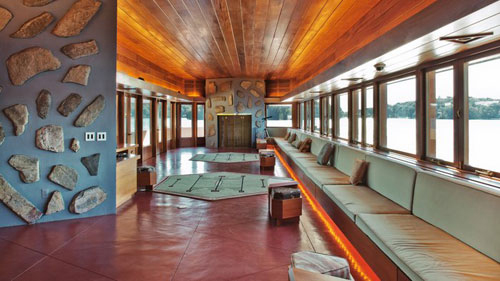 Completing the home in 2004, he managed to see off law suits from the Wright Foundation and, having initially claimed he had no plans to sell the house, Massaro put it on the market, with a price tag of just under $20m.
It's obviously a beautiful house, but is it authentic? Well, Massaro told Private Islands magazine, " (the late American broadcast journalist) Walter Cronkite came out to see this island about a year before he passed away. The house was under construction and he knew Frank Lloyd Wright personally. He walked in and turned to me and said, 'I feel Frank in this house.'"
Does this settle things? Judge for yourself. Those with the funds can consider arrange to view the house here, while fans of Wright's work and others, should consider our volume on 20th Century Architecture. It covers Wright's career, if not his posthumous developments. And if you want to go further you'll find our books Frank Lloyd Wright and On and By Frank Lloyd Wright provide great insight into the life and work of this great American architect and a real feel for the inspirations and motivations that drove him to create such timeless, beautiful work. Perfect Christmas presents for those with good taste - yourself, for example.