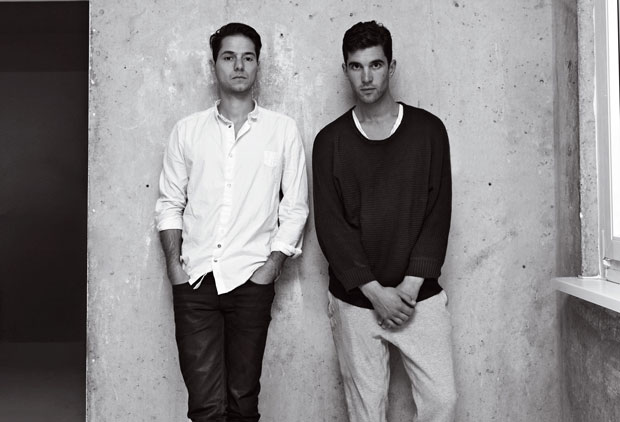 The Insider's Guide to Berlin
Designers Philipp Schöpfer and Daniel Klapsing on the city's secrets from our downloadable Wallpaper* guide
As the dual founders of design studio 45 Kilo, Philipp Schöpfer (above left) and Daniel Klapsing create custom-made Bauhaus-influenced furniture. Most of their favourite places in Berlin reflect a preference for the pared down. Their drinking den of choice, Buck and Breck (Brunnenstrasse 177), consists of a single room, almost entirely taken up by a counter, around which guests sip cocktails.
"You have to ring the bell to get in," explains Schöpfer. Meanwhile, for inspiration, they head to Johann König (Dessauer Strasse 6-7), a "huge space that offers artists the ability to show large installations", or Appel Design Galerie (Torstrasse 114), which specialises in midcentury furniture. "There aren't many design galleries that have a gallery atmosphere," observes Klapsing. "Here, it's nothing more than the actual pieces."
Fans of Mitte's independent retail scene, the pair shop at Soto (Torstrasse 72), a men's concept store, stocking labels such as Our Legacy, and Marron (Augustrasse 77-78), a furniture, design and accessories boutique. Both also relish trips to the ramen restaurant Cocolo (Gipsstrasse 3).
When it comes to clubbing, instead of queuing to get into techno temple Berghain (Wriezener Bahnhof), they hit the venue at 5pm on Sunday. "Looking at all the people who stayed for two nights in a row is quite interesting, and a little embarrassing," says Schöpfer.
We hope our preview has given you an idea for a new year city break. You can find out about the places mentioned above - and more - by downloading our Wallpaper* City Guides here.