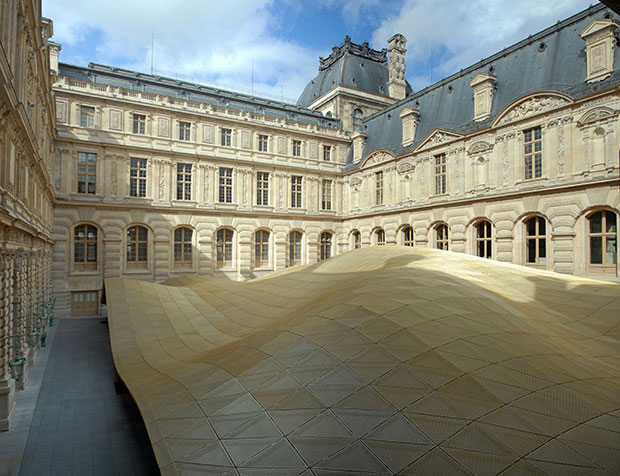 One thing not to miss in Paris
Spring has sprung and with it comes a new Wallpaper* City Guide, packed with cool things to see and do
Owing to Paris' petite size, relative to say London or New York, the city smiles on intrepid visitors who want to explore both sides of the Seine. With that in mind the 24 hour tour of the city in our about-to-be-released updated Wallpaper* City Guide is a perfect introductory itinerary to the city. Here's one of many highlights featured in it. There are plenty more.
Inaugurated in 2012, the undulating roof of some 2,350 triangular panels in gold and silver aluminium mesh that occupies Cour Visconti shields the Louvre's Islamic art treasures. Its deliberately cloak-like quality saves the structure from what architect Mario Bellini, who designed the gallery with Rudy Ricciotti, says would have been 'embarrassing cross-pollination with the 18th-century character of the palace'.
The illusion of suspension and fluidity gives the project a lightness and unexpectedness in keeping with the museum's prior contemporary flourish, IM Pei's 1989 glass pyramid. The Islamic collection spans 1,300 years and three continents, covering ceramics, glassware, textiles, calligraphy and precious metals. Louvre, 1 place du Carousel, 1er, T4020 5317, www.louvre.fr
To find out more about this great European City get our newly released Wallpaper* City Guide, a tightly edited, discreetly packaged list of the best a location has to offer the design-conscious traveller, whether you're staying for 48 hours or five days, visiting for business or vacation. Download the Wallpaper* City Guide to Paris here or buy the print version here.