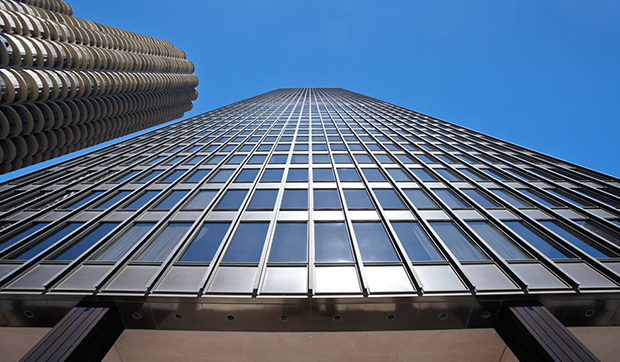 Mies tower wins architectectural prize after 42 years
Commissioned by IBM, the 52-storey Chicago tower had one of the first computerized air-conditioning systems
Preserving anything as futuristic as this Chicago tower, which Mies van der Rohe built for IBM, seems to go against the spirit of the building. The project, which the computer firm commissioned from an 80-year-old Mies in in 1966, was competed in 1972, three years after the architect's death, and widely regarded as his last American office building.
It's a quintessential, late-Miesian block, with a concrete core, steel frame, and a sleek curtain wall constructed from bronze anodized aluminium, and tinted glass. Yet IBM, which was itself going through an innovative period, had a few high-tech requirements. The firm requested very delicate climate controls, to optimize its computing capabilities, with a digitally controlled heating and cooling system incorporated into the tower block, linked to a dedicated weather station on the building's roof.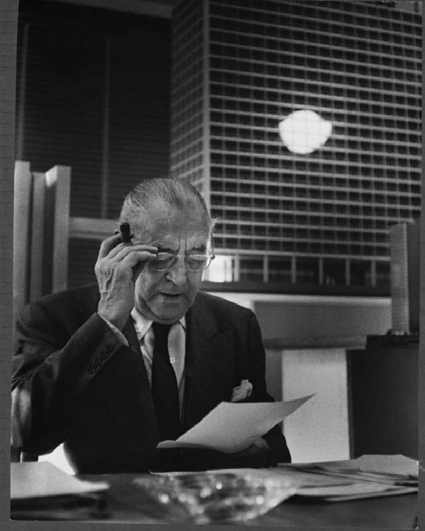 The firm also made sure an electronic security system was installed on every floor of the 52-storey tower, allowing its owners to monitor all doors and windows. Viewed as positively Orwellian at the time, the feature has since been regarded as one of the building's most attractive features, ensuring the tower at 330 N. Wabash Ave remained occupied, even as the post-war boom abated.
Unfortunately certain aspects of the building, such as the inclusion of asbestos, don't meet the needs of today's city. Yet, its current owners, who rechristened the block the AMA Plaza after current tenants the American Medical Association, have carried out so sympathetic a restoration job, that The Commission on Chicago Landmarks singled out the building in its awards for Preservation excellence. The prize recognises "individuals and organizations for notable achievements in restoring, reusing, and promoting the city's historic architecture."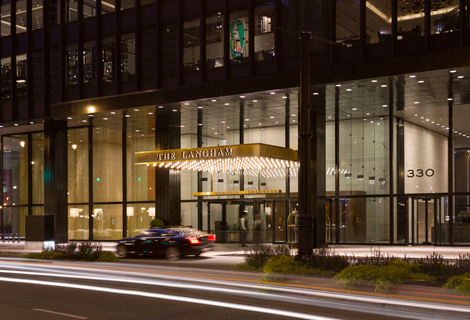 The commission praised the installation of a new green roof installation in the 42-year-old block, the repair of exterior column cladding, and the replacement of certain windows, which were said to have leaked. Renovators also removed asbestos, installed water sprinklers throughout the building, and fitted new mechanical, electrical, and plumbing systems, and a full lobby renovation.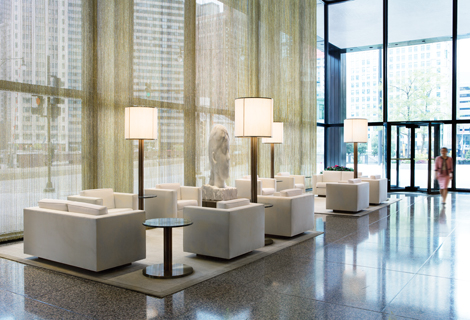 Much of the work was done to meet the needs of the Langham hotel, which occupies the building's lower floors, yet this also sounds like the sort of thing Mies would approve of. Find out more about the preservation award here. And for a richer understanding of the architect's life and work, consider our own new Mies landmark, a magisterial monograph dedicated to the great man.