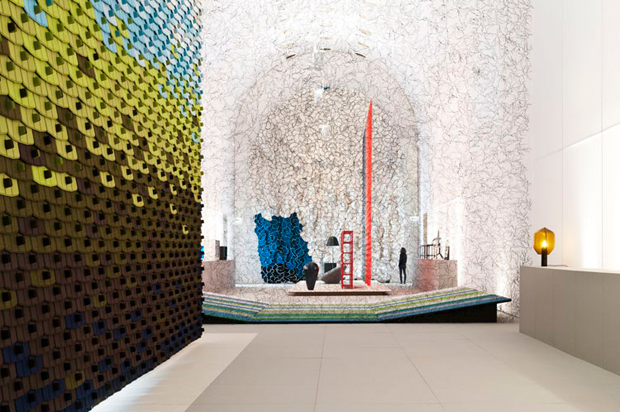 Bouroullec brothers stage 15 year retrospective
Vast white tent-like structure in Paris is divided up with giant screens of their Algue 'seaweed'
It's no hollow boast to say that Ronan and Erwan Bouroullec are generally regarded as the most influential industrial designers France has produced since the 1980s. Now they're staging their most ambitious show to date: a retrospective of the last decade- and-a-half at Paris's Musée des Arts Décoratifs. Called Momentané, which means 'momentary' in English, it's an exploration of space partitioning, in the museum's 1000sqm nave.
The exhibition's organisers describe the duo as "great admirers of Charlotte Perriand", who was one of the early modern movement's most influential furniture designers. "Like her they are intensely interested in modularity, a concern they have explored in creations such as the Lit Clos sleeping cabin, the Alcove Sofa (Vitra), and lightweight screens built by assembling basic elements: the Cloud shelf-partition modules (Cappelini), and the Algues (Vitra) and North Tiles (Kvadrat) modular partitions."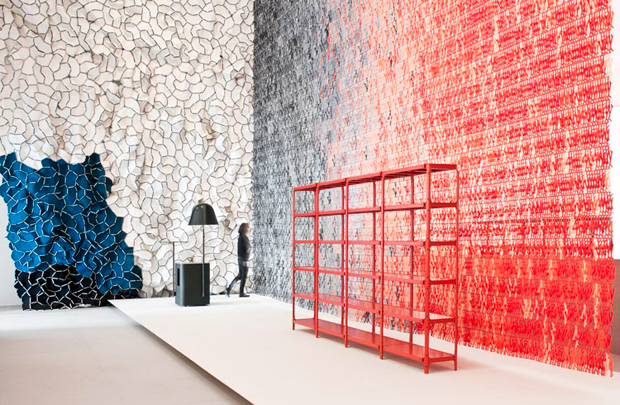 In fact it was, of course, that sleeping cabin for Italian manufacturer Cappellini which put the Bouroullec brothers on the map. When they debuted the curious metal structure in green and white at the Salone del Mobile in Milan back in 2000, it was the most talked-about product of the year. With its integrated bunk-bed and workspace, designed for the increasing number of people who work, rest and play in the same environment. "Some people said the Lit Clos looked crazy when they first saw it in Milan," Erwan admits. "For us, it's a practical response to the way that we and our friends like to live."
Born and bred in Brittany, Erwan studied art, while Ronan studied industrial and then furniture design. Their first joint pieces appeared in 1999. Now 41 and 37 respectively, a reputation for stylish restraint has given them an enviable client list.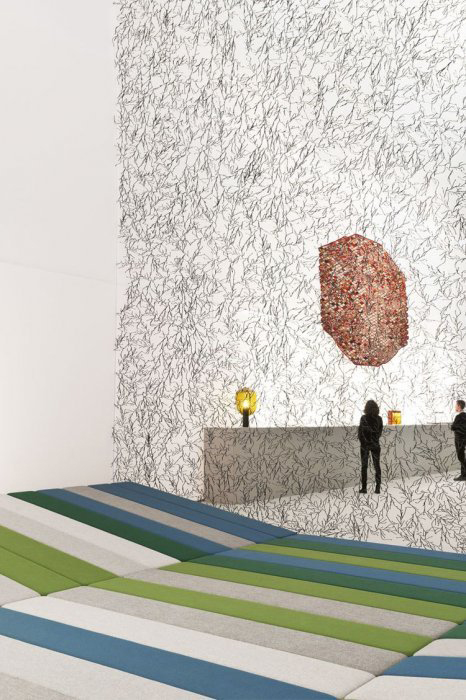 One of their most recent launches is a do-it-yourself curtain for textile firm Kvadrat, which seems to be nicely in keeping with their theme at the Musée des Arts Décos. There, they've devised a vast white tent-like structure, which they've divided up with out-sized screens made from their 'seaweed' or Algue – simple black strips – and Clouds – felt tiles that interlock. These show-stopping installations rub shoulders with more practical pieces for the home and workplace, like their recent sleek and simple Copenhague chair for Copenhagen University.
While the Bouroullecs are not mining the same seam as pure-bred industrial designers such as Kenneth Grange or Niels Diffrient, they never design something for design's sake. And this philosophy combined with their strong aesthetic means their star will surely to continue to rise. Check out the show , which runs until September 1 and take a look at their truly exceptional book Works in the store and view all our online content on them.