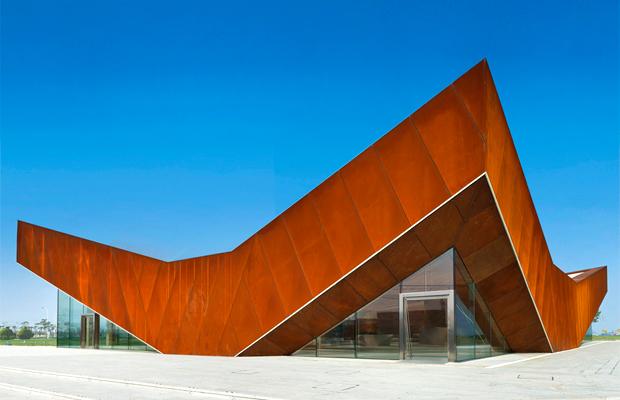 Ministry of Design gets to the point
Singapore-based architects' beach-side gallery space in China seeks to question, disturb and redefine
Working across architecture and interior design, Singapore-based practice Ministry of Design (MOD) takes a rather singular approach to each project it takes on. "Just three words: question, disturb, redefine. This is my firm's mantra," Founder Colin Seah says. "We continually seek to question the status quo, disturb convention and redefine relevant answers for the contemporary context." The practice has just completed Vanke Triple V Gallery, a 750 square metre space next to the beach in Dong Jiang Bay, China. Vanke, China's largest residential real estate developer commissioned the building to house a tourist information centre, gallery space and discussion lounge.
The building sits on a triangular piece of land which narrows towards the water's edge. Its pitched roof dramatically points out into the bay and the colour of the corten steel used to coat the exterior contrasts with the blues of the water and sky. "The site's adjacency to the beachfront was a primary point of inspiration,"Seah says. "We wanted to orient our building to address this beachfront as well as to select a palette of materials that echoed the spirit of the surroundings."
Seah founded Ministry of Design in 2004 after returning to Singapore from a stint in the USA working for Rem Koolhaas and Daniel Libeskind. MOD's work includes a multi-disciplinary dimension, incorporating graphic, product and collateral design for the unusual spaces it designs.
Zig Zag House, which MOD completed in 2010 in Singapore is situated in a zig zag pattern on a thin strip of land. The single storey building accommodates a diagonally-patterned planted rooftop with gardens running the entire length, broken occasionally by small courtyards.
Ministry of Design's interior projects have included the entrance and internal design of serviced office provider Face To Face in which the building is edged in strips of light which continue into the office spaces themselves. Most notably, the practice has also completed the interiors for advertising firm Leo Burnett in which the face of the company's founder is drawn on the wall by an oversized pencil bearing the company's name.