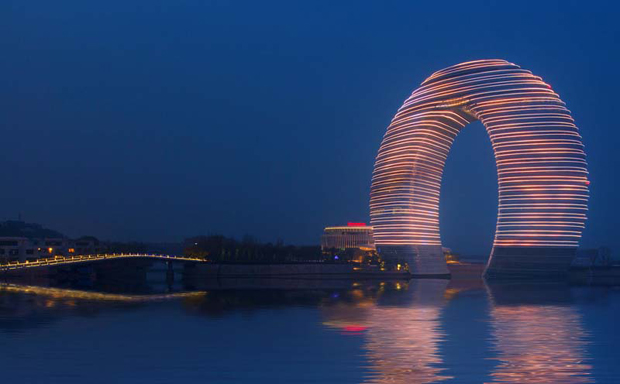 MAD creates 'doughnut' hotel for Sheraton Huzhou
Young practice clads metal façade with LED light system which displays patterns on surface of surrounding lake
The young creatives at MAD Architects in Beijing have done it again. By which we mean they've got a reputable company to give them the thumbs up for an extraordinary structure. The practice's National Museum of Art in their home town was striking to say the least, as were their Huangshan Mountain Village and Fake Hills residential developments. This time, they've created a doughnut-like arc rising out of the water for the $1.5bn Sheraton Huzhou Hot Spring Resort.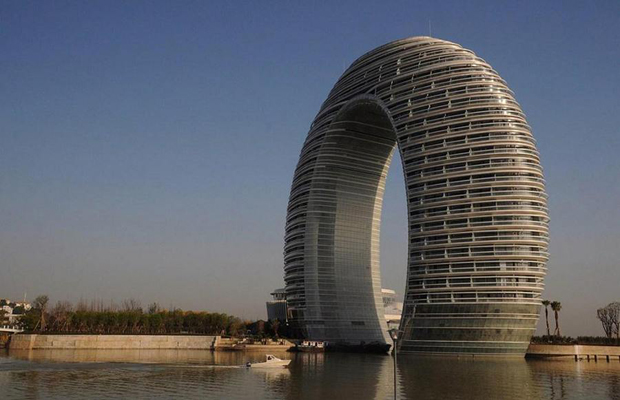 The city of Huzhou or 'City of Silk' is in the Zhejiang province of Eastern China, on the banks of Lake Taihu. MAD's idea was for all of the hotel's 321 rooms to benefit from views of the lake. "Fundamental to the logic of the unique shape of this impressive yet bold design is the idea that the building is comprised of hotel rooms that demand ample natural light and cross ventilation," says founding principal Ma Yansong and his team.
MAD's scheme is going to be difficult to miss. It's more than 100m high and 116m wide, covering an area of 75 acres. But it's not just the shape that will stop traffic. The architects have clad it in a metal façade with an LED light system which "displays colourfully animated textures and patterns, further reflected on the lake surface, creating a playful and aesthetically pleasant atmosphere", they say.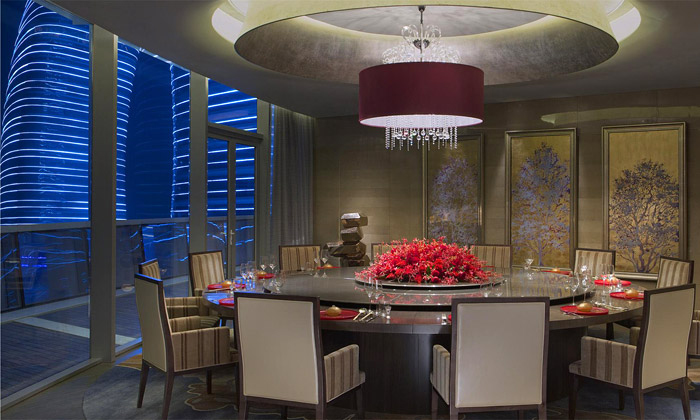 If you're a fan of cutting edge architecture when it's applied to hotels - and pardon us if that sounds rather prescriptive - you'll find a number of examples in our books 20th Century World Architecture and The Phaidon Atlas of 21st Century Architecture. The Sheraton Huzhou will surely be the jewel in the crown of the hotel's expansion plans. The China-based chain is particularly busy this year, with 30 new outlets in the Asia-Pacific area opening and four more in Africa and the Middle East.