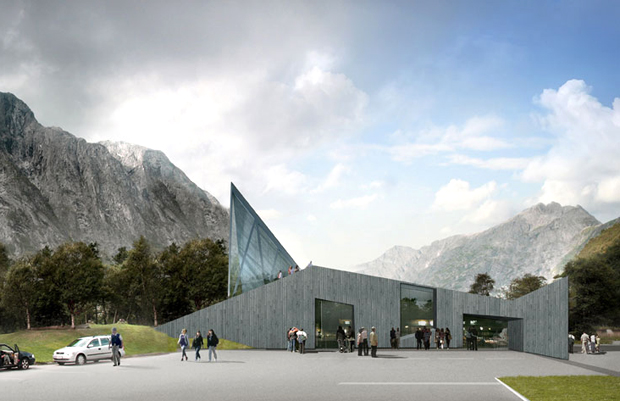 Reiulf Ramstad's peak practice
Mantra-abiding Scandinavian architect creates angular mountain retreat in Norway
As architectural mantras go, 'clear thinking, bold design,' is up there with the best. It's the ethos behind Oslo-based Reiulf Ramstad Arkitekter and it's resulted in the design of a mountain retreat which appears to mirror the mountain top itself.
The practice's newly completed restaurant and service centre sits at the foot of the Trollveggen (Troll Wall) - one of Norway's most popular nature attractions - part of the mountain range Trolltindene (Troll Peaks).
Featuring a restaurant, gift shop and theatre, the building's dramatic sloped roof mimics its surroundings and takes on the texture of ice via a glass façade that reflects the surrounding landscape. The practice says the aim is to "expose the tension between the natural and the artificial."
Based in Oslo, RRA was established by Reiulf Ramstad in 1995 and has since won numerous awards such as the Premio Gino Valle in Venice and The Norwegian Award for Design Excellence and in 2001 represented Norway at the Nordic pavilion at the Venice Architectural Biennale. In 2001 Ramstad himself initiated and developed the concept for the first Architectural Triennial in Oslo.
RRA regards each site it designs as a unique space from which to gain inspiration and to base its architectural palette on, characterised by a strong focus on natural materials. The practice has a clear set of controlled principles which each project is ruled by: "Whatever is iconic must be perfect, whatever is perfect must be lucid, whatever is lucid must be simple, and whatever is simple must be bold."