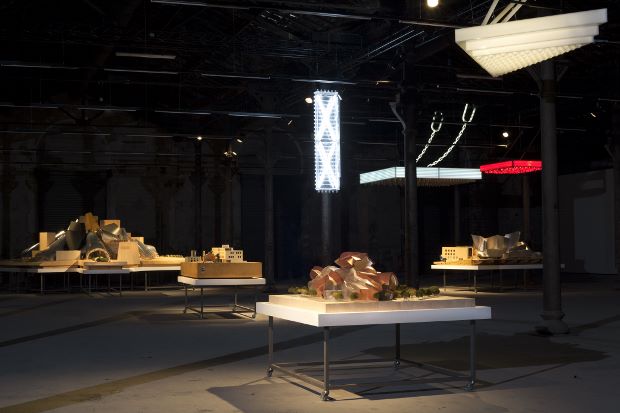 Frank Gehry's models on the move in France
The Pritzker laureate's maquettes feature in a new Arles show, alongside works by David Lynch and Tino Sehgal
The great Canadian-American architect Frank Gehry often exhibits his work in a gallery setting. He is, after all, represented by the Gagosian, and has been showing his beautiful fish lamps at various Gagosian galleries over the past year or so. However, even he was surprised to see a selection of his building models brought to life in an old train-repair yard in southern France.
The experimental intervention is housed in what will become LUMA Arles, an art and culture campus. Gehry is designing its centrepiece - the Arts Resource Centre – which, come 2018, will contain research facilities, workshops and artist studios. In the meantime, LUMA Arles' founder, the Swiss collector Maja Hoffmann, has given another space on the site, the Atelier de la Mécanique, over to Gehry's greatest hits.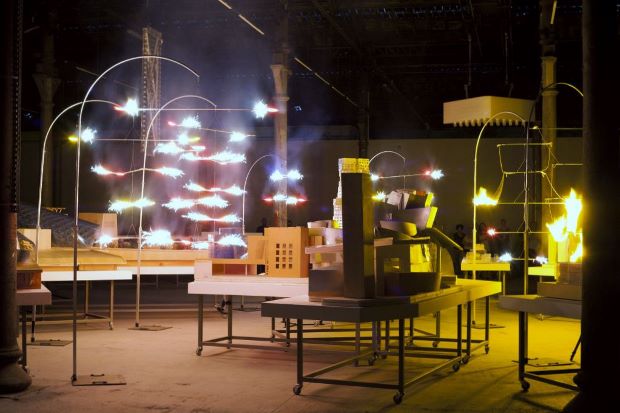 The Solaris Chronicles show, which runs UNtil 26 October, examines Gehry's creative vision. It features large-scale models of, among others, the Walt Disney Concert Hall in Los Angeles, the Guggenheim Museums in Bilbao and Abu Dhabi, the National Art Museum of China, and the new Facebook West Campus Building in Menlo Park, USA.
The show's producer, Asad Raza, describes it as a "collaborative experiment" of Gehry tributes. Much of the action involves the models being rolled across the floor on wheels. "There are few moments in the show in which something is not moving," says Raza of the edifying choreography. Other contributors include the film director David Lynch, and the artists John Baldessari, Tino Sehgal and Cai Guo-Qiang. Cai conceived a specially-designed firework which went off on the premises earlier this month.
Hoffmann hopes this will be a place where artists and thinkers "can work in ways that are unencumbered by the traditional practices, dynamics, and structures of art institutions".
Certainly, Gehry seems very taken with the outcome. "It is fascinating for me to see the interplay of my models with the work of other artists," he says. "These models have a sense of movement I couldn't have imagined – I never thought I would have the opportunity to see them dance."
For greater insight into new building projects around the world, sign up for a free trial of the Phaidon Atlas, our peerless online resource offering pictures, plans and insight into new architecture around the world. Once you're in you might to take a closer look at some great Frank Gehry projects on his practice page.