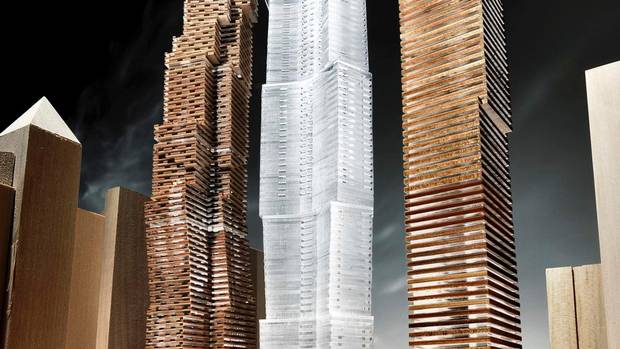 Frank Gehry reworks downtown Toronto
The Canadian super architect develops downtown Toronto with the help of local theatre impresario David Mirvish
Canadian theatre producer and art collector David Mirvish joined the Toronto-born architect Frank Gehry earlier this week, to unveil plans for a huge development on King Street West in the city's entertainment district.
One of Mirvish's theatres, The Princess of Wales, partially occupies the site for what the pair hope will become an arts hub. Gerhy's designs centre around three huge residential towers, each 80 to 85 storeys tall. Beside these will sit two smaller, six-storey blocks, or 'podiums' as the pair dub them. The podiums will house various cultural facilities, including premises for Ontario's College of Art and Design, and a free art gallery, showing works from Mirvish's own collection, which includes pieces by Anthony Caro and Helen Frankenthaler.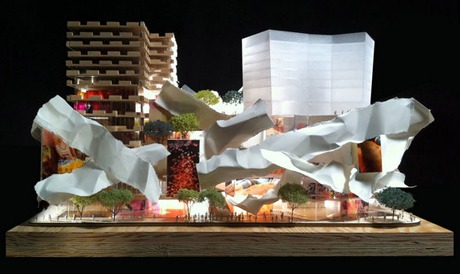 The plans have been welcomed in some quarters, while others have questioned the merits of a development, which, though styled as a cultural undertaking, will house 2,600 residential apartments.
Mirvish remains bullish. "I am not building condominiums," he told Canada's National Post. "I am building three sculptures for people to live in."
Gehry, meanwhile, expressed his pleasure in working on such a large-scale project in his hometown. "It is very special for me to be able to work in Toronto where I was born and to engage the neighbourhoods where I grew up," the architect said. "It's especially interesting that this project involves the arts. That is always meaningful to me." Let's hope the local planning officers take this into account; the development has yet to be formally approved.