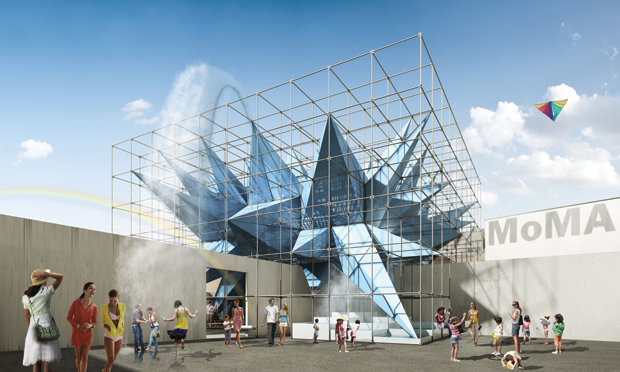 Sharp new talent wins MoMA PS1 competition
HWKN's mist-blasting water-expelling design due to open this summer
New York-based architecture and design firm HWKN (HollwichKushner) has been selected from five finalists to create this year's outdoor installation at MoMA PS1 in Long Island City, Queens.
The firm's gigantic multi-armed spiky design (named 'Wendy') won the 13th annual Young Artist's Programme (YAP) organised by New York's Musmeum of Modern Art (MoMA) and MoMa PS1 and is set to open in late June. The competition was designed to offer emerging architectural talent the chance to show off their skills and create a structure that provides shade, seating and water, while also adhering to guidelines around the environment, sustainability and recycling.
"The whole HWKN team is beyond proud, and can't wait to build Wendy this summer," the team told Phaidon. HWKN's work mixes progressive architectural concepts with popular culture and its work has featured in The New York Times, Wallpaper*, and Architects Magazine. In 2009 the firm also cofounded the online architectural platform Architizer.com.
Perhaps the most amazing feature of Wendy (other than her striking looks) is the fact the design will continually clean the air and by the end of the summer of 2012 will have achieved the equivalent of taking 260 cars off the road. This is all thanks to the structure's composition of nylon fabric treated with ground breaking titania nano-particle spray which neutralises pollution in the air.
Each of Wendy's pointed arms will be programmed differently, some expelling blasts of mist, while others will blow out cool air or play music and will be surrounded by a 70' x 70' x 45' scaffolding.
"By combining off-the-shelf materials and scaffolding systems with the latest cry in nanotechnology it is able to produce both an out-of-the-box ecological statement and a bold architectural gesture" says Pedro Gadanho, Curator in MoMA's Department of Architecture and Design.
Previously called P.S.1 Contemporary Arts Centre, MoMA PS1 was founded in 1971 by Alanna Heiss and has devoted itself to organising exhibitions in under-utilised and abandoned spaces across New York City. It's first permanent location in Long Island City, Queens hosted site-specific installations by the likes of James Turrell, Richard Serra and Laurence Weiner. The organisation joined forces with MoMA in 2000.
Sign up to the Phaidon newsletter to get future updates.