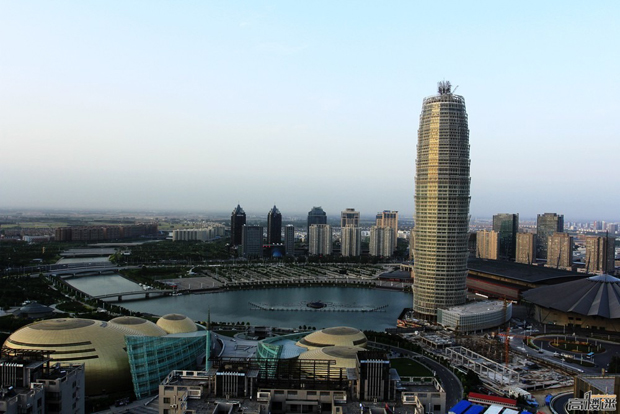 SOM's 'classical column' rises in China
Just 5 feet shorter than the Shard, Skidmore Owings & Merrill's Zhengzhou tower is clad in painted aluminium
More high-flying creativity in China, this time courtesy of Skidmore Owings & Merrill (SOM). Office workers are starting to get their feet under their desks at Zhengzhou Greenland Plaza, while the 416-room hotel above the office and mixed-use floors will soon be ready to accept guests.
At 60-storeys and 919-ft tall, it's the loftiest tower in this central Chinese city, and is only 5 feet shorter than Renzo Piano's Shard.
"We conceived the building as a classical column," says Ross Wimer, design director at SOM. "Its iconic image comes from this timeless form - adapted with cutting-edge, 21st-century technologies to create a building that expresses our time."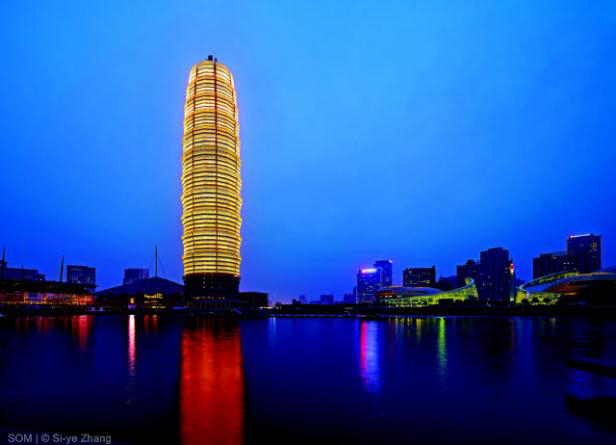 What makes this circular tapering structure stand out are the 3-5-storey-high screens which clad - at a distance of a metre or two - the glass façade. They're made of painted aluminium and are angled away from the building slightly to allow daylight into the interior via some cleverly-calculated reflections. This means that the glazing doesn't heat up in the sun and artificial lighting is kept to a minimum. Meanwhile when darkness falls, these screens are illuminated themselves, creating a sort of Chinese lantern effect.
And at the Plaza's summit is a heliostat which brings yet more light down through the hotel's atrium. Because natural light is a key ingredient on this project. "Like the solar screening, the heliostat is a scientifically-derived element that enhances the experience of daylight for the building's users," Wimer explains. We think it works rather well. Hit the like button if you agree, comment if you don't.