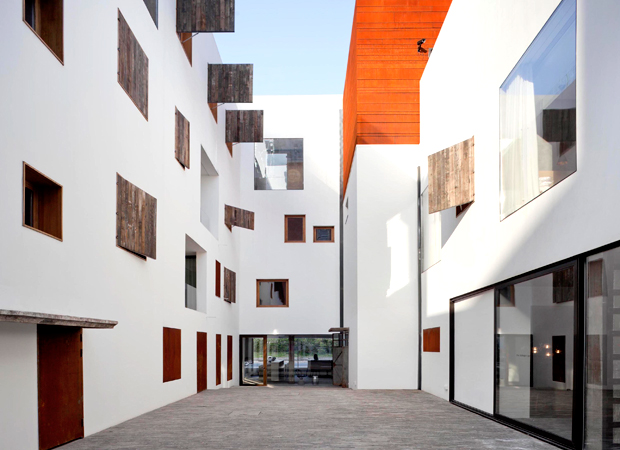 The Emerging Architecture Awards 2010
Andrea Klettner reports from the 'Architectural Review's' annual awards ceremony to celebrate the stars of tomorrow
Last week the 12th annual Emerging Architecture Awards once again honoured the most talented crop of young architects from across the world. Organised by leading British architecture monthly Architectural Review (AR), the event was hosted by the magazine's editor Catherine Slessor, who also chaired the jury. Fellow jurors included Colombian architect Daniel Bonilla, Nigel Coates from the UK, Jennifer Dixon from UK-based Austin-Smith:Lord, Florence Lipsky from Lipsky+Rollet and Indian architect Gurjit Singh Matharoo, from Matharoo Associates.
All projects for which candidates are nominated must have been realised and completed to qualify, with the limiting age for entrants standing at 45 years of age. Awards are given for excellence across a range of categories including buildings, landscape, urbanism, product design and furniture.
This year three practices – Architects Atelier Ryo Abe, Japan; Carmody Groarke, UK; and Neri & Hu Design and Research Office (NHDRO) - were crowned first prize winners out of more than 300 submissions from across the globe.
Speaking about the judging process Slessor said: 'The ebb and flow of the jury's discussions owed much to different experiences and world views, but all were agreed on the importance of certain key assessment criteria: connectedness to place, appropriate use of materials and technology, the cultivation of environmental and social responsibility and some sense of architectural authenticity.'
Architects Atelier Ryo Abe won for their project Shima Kitchen on Teshima Island Japan – a renovation project that saw an old house remodelled as an open kitchen - to create a new venue for dining - and a separate warehouse, turned into a small arts gallery. Outside, a canopy creates a small theatre, unifing the two buildings. Slessor describes the project as a 'meditation on nature, simplicity and place'.
London-based Carmody Groarke (who took the title of Young Architects of the Year in last year's Architect of the Year Awards) won for their pop-up restaurant project Studio East Dining on the edge of the 2012 Olympic Park in Stratford. The project, which was designed and built within 10 weeks, celebrates 'an intuitive, vagabond spirit', according to Slessor.
Finally NHDRO's project The Waterhouse, on the South Bund in Shanghai, China, was praised for its 19-room hotel remodelled from a derelict 1930s building. Jury member Gurjit Singh Matharoo said: 'What they have done is to leave old as it is: rough and dirty...So there's a beautiful contrast created, and by just leaving it, it enhances both the old and the new.' Slessor adds: 'NHDRO's remodelling of an existing building in Shanghai's docklands into a new boutique hotel is an intelligent paradigm for the creative reuse of historic structures, which has a wider and hopefully instructive resonance in China's current expansionist milieu.'
A further three practices were chosen as runners-up: AMID.Cero9 for their Diagonal 80 Industrial Building in San Agustin Del Gaudalix, Spain; Arquitecturia for their Ferreries Cultural Centre in Tortosa, Spain and Sekkei-Sha for HOUSE K, Saopporo, Hokkaido Prefecture in Japan.
Slessor concludes: 'Though the Awards are now in their 12th year, we continue to be amazed by the depth and ingenuity of the architectural thinking demonstrated in the submissions.'
Together with the 13 highly-commended projects, the top entries will form part of Emerging Architecture, on show at the Royal Institute of British Architects from 30 November until 1 March 2011.
Andrea Klettner is a freelance journalist and the editor of Love London Council Housing