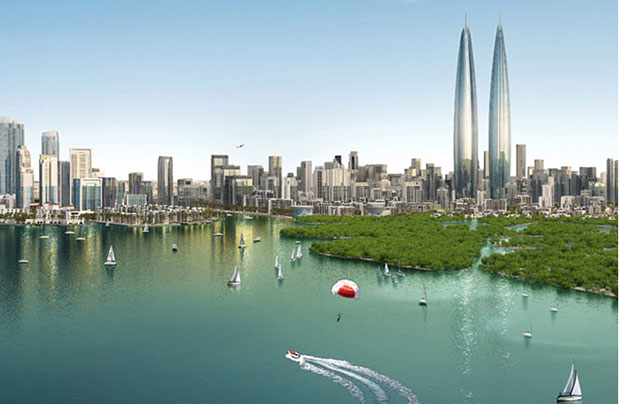 World's tallest twin towers will go up in Dubai
But the architect for the The Dubai Creek Harbour at The Lagoons remains a mystery. Could it be SOM?
The architectural action in Dubai is soon to move away from the Downtown Dubai development and its record-breaking Burj Khalifa by Skidmore, Owings & Merrill to some empty land on the creek.
The Dubai Creek Harbour at The Lagoons scheme will cover 6m-sq-m and will be home to what are being described as the tallest twinned skyscrapers in the world. These are the latest intentions for the site, whose earlier development plans - including a Zaha Hadid design - were thwarted by the financial crisis.
The ambitions of developers Emaar Properties and Dubai Holdings for the area - three times the size of its previous scheme, Downtown Dubai - are significant. They envisage half a dozen residential towers to surround the brace of bullet-shaped structures. Dubai Creek Residences' distinct form draws its inspiration from the mystic charm of the creek. The towers are anchored to a podium which provides the appropriate backdrop to the vibrant marina lifestyle," say the developers. These and the rest of the buildings will accommodate 9000 homes and 22 hotels.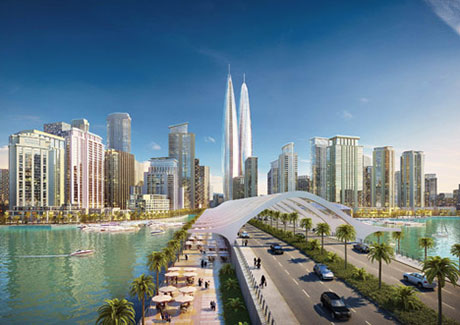 Despite the fact that apartments will start to be pre-sold this month, no architect has yet been named for the project - another commission for SOM, who last year completed Dubai's twisted Cayan Tower? Nor has the actual height of the record-breaking towers been revealed. New York's former Twin Towers by US architect Minoru Yamasaki were 1368ft, making them the world's tallest when they were completed in 1973.
However, this lack of public information is not stopping the developers from being excited by their own plans: "With no legacy ties to infrastructure, this new Dubai will leapfrog many of the world's other global cities," they say.
While you're waiting for the reveal you can check out the work of Skidmore, Owings & Merrill on their practice page in the Phaidon online Atlas which includes a close look at their Terminal 3 building at Changi International Airport. If you're not yet signed up for the Atlas you can take a free trial for a month here. And why not take a good look at the many great architecture titles in our online store?