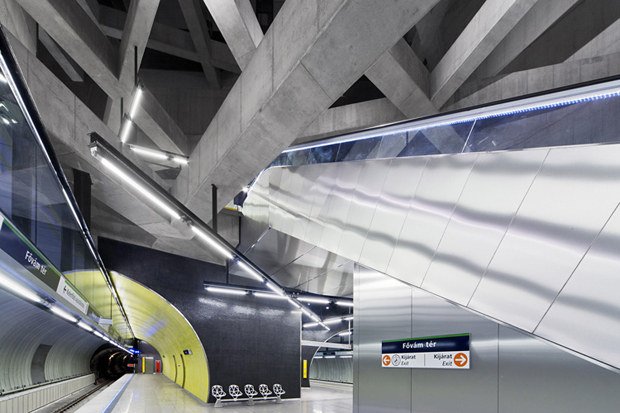 Is the new Budapest metro better than your metro?
Spora Architects reimagines two stations in the Hungarian capital with stunning results
The Hungarian capital Budapest is ploughing significant funds underground, with the introduction of a new 7km-long metro line to connect the south of the Buda area with the city centre, Pest.
The first stage of the M4 line alone will comprise ten new stations, including two impressive designs by Budapest-based Spora Architects. Their Szent Gellért tér and more recent Fővám tér stations are stationed either side of the Danube, and the architects describe them as twins.
Both comprise "a complex structure composed of a cut-and-cover box and tunnels", to allow for the proximity of the river. Three levels of exposed reinforced concrete beams combine with more ornamental criss-crossing beams, in deliberate contrast with the 19th century streetscape above. "The station can be interpreted as an inverse street or square under the surface," say the designers.
Natural light is brought onto Fővám tér's platforms via crystalloid skylights in the big pedestrian square being built at ground level. This wasn't an option for the second station, which is buried 36m deep and has buildings and a main road directly above it.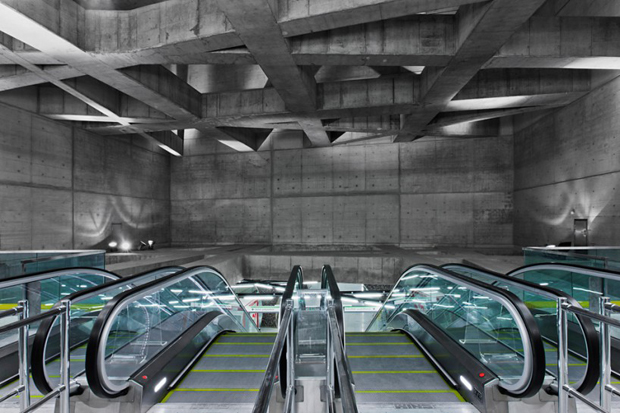 Walls and columns are clad in patterned tiles referencing ceramics manufactured by the famous Hungarian brand Zsolnay which are featured at the Art Deco Hotel Gellért nearby. Meanwhile, Konstantin Grcic's metal latticed Chair One for Italian manufacturer Magis graces the platforms. The architects' hope is that their design work will inspire Budapest citizens and visitors to take to the metro and hence reduce ground-level traffic.
Check out Spora's work in the Phaidon Atlas our new online resource for those who work in the architecture industries or who just want to gain a better knowledge going up around the world today. Sign up here for a free trial here.