Zaha and co. rethink the drinking fountain
A group of London architects have come up with their versions of the water fountains for the capital
In many of our bigger cities, the drinking fountain disappeared along with police boxes, mile stones and horse troughs. However, a new initiative is attempting to revive this public utility, with the help of some of London's best design talent.
Six of the city's leading architectural firms have designed a series of new drinking fountains, as part of the Kiosk Challenge. The firms featured are Zaha Hadid Architects; Hopkins, who both designed stadiums for the London 2012 Olympic Games; Alfred Hall Monaghan Morris, designers of Google's London HQ; Eric Parry Architects; classicists ADAM Architecture; and up-and-comers Studio Weave.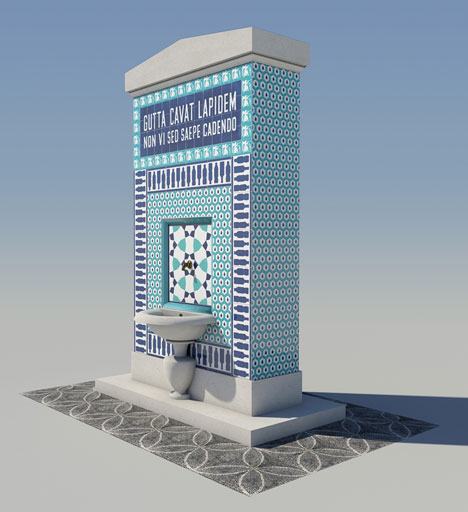 They were briefed by the trade body Turkish Ceramics, to create a"water-dispensing kiosk for London that incorporates ceramic details and reflects the artistry and craft typical of the building type's rich heritage."
While no formal sites have been selected, the designers pictured their kiosks on the streets of Soho, the South Bank and Kensington. The designs are as varied as the architects themselves. Hadid's practice has configured a sculptural swooping canopy that cantilevers over a ground-level pool where water collects.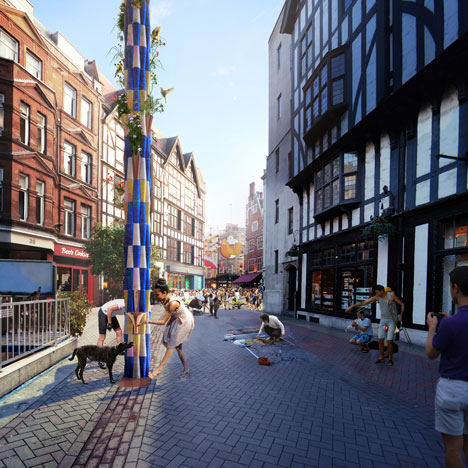 Those imaginative youngsters at Studio Weave have fashioned some tall brightly-coloured 'watering poles' from which greenery can grow, and which also double-up as way-finding markers. AHMM's dispenser is positively restrained: a lowly metallic pole with three water fountains coming off at angles. And ADAM's classic pillar with mosaic tiles is the most sedate, straight-forward response to the brief.
So, why 'kiosk' rather than fountain? Well, Turkish Ceramics say the roots of the street kiosk as we know it originated in the Ottoman garden pavilion, before evolving into mini shops selling newspapers, cigarettes and other sundries.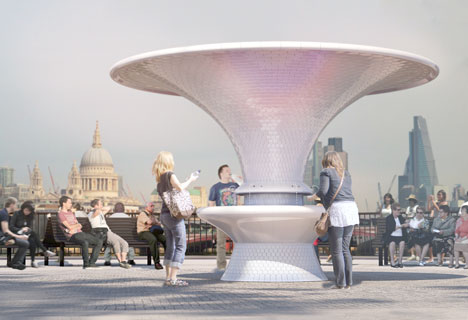 And as well as showing off some of Asia Minor's finest tiles, Turkish Ceramics state that the project "is also intended to stimulate debate about the meaning of public space, ideas around congregation and a return to a more civic realm where items, such as drinking fountains and other architectural civic gestures, change how we use and view our townscapes."
So, could you picture them in place? See for yourself. The designs are on show at London's Building Centre until 14 March. For more, go here. For greater insight into our use of public urban space, take a look at Living in the Endless City. For more innovative international architecture, consider The Phaidon Atlas of 21st Century Architecture, the Phaidon Architecture Travel Guide App, and our recently launched Online Atlas. You can sign up for a free trial for that here.