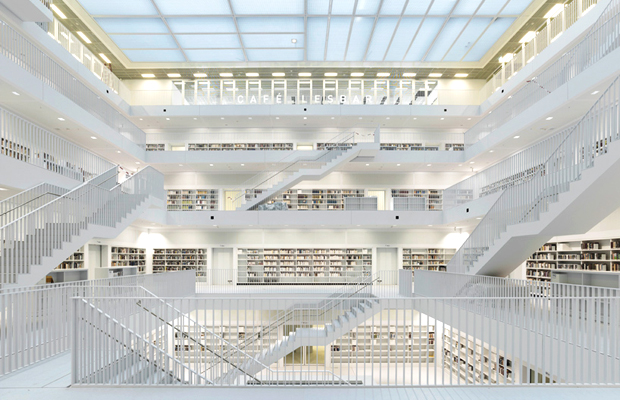 Let there be light!
The new Stuttgart City Library - possibly the best place in the world to flick through a Phaidon book
"If you have a garden and library you have everything you need," said the Roman philosopher Cicero. We can't help thinking, however that if he could see the new Stuttgart City Library, designed by Korean-born Cologne-based architect Eun Young Yi, he'd quite happily forsake the patch of lawn. Yi's building is a vast expanse of clean, fresh white surfaces punctuated with colour only by the books it houses.
Part of the master development plan for Stuttgart's new European Quarter, the library takes inspiration from the Pantheon in Ancient Rome. It's entered through a large windowless space which opens out into the central five-storey galleried space characterised by numerous staircases designed to promote movement around the books. The interior is lit by natural light via glass wall bricks and a translucent roof. At night, the bricks glow, giving the structure the look of an intricate Rubik's Cube.
The exterior of the building is inscribed with the word "library" in four languages; on the north wall in German, the west in English, the south in Arabic (the language of ancient knowledge and of Stuttgart's sister city, Cairo) and the east in Korean (Yi's native language). The proposal for the 80 million euro project was won by Yi's firm Yi Architects in 1999.