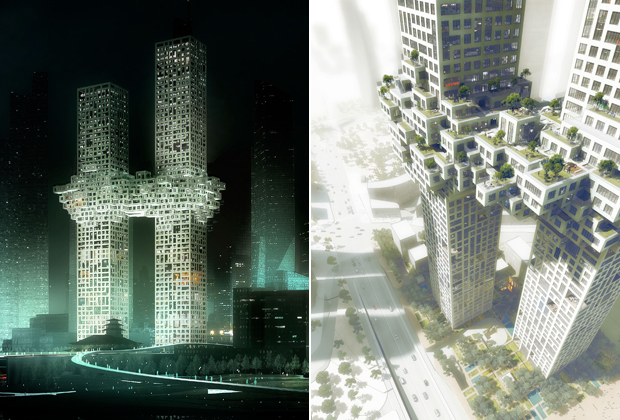 Seoul's new suburb in the sky
Dutch architects pull off the impossible and make 'the middle ground' exciting
"The desire, if not the obsession, if not the necessity, is to make cities more suburbanised," said Winy Maas, principal architect and co-founder of Rotterdam-based MVRDV design, unveiling his latest project in Korea this morning. These 260m and 300m twin towers hardly evoke suburban bliss, white picket fences and leafy boulevards, but as cities continue to grow and swallow up the surrounding land, this architectural firm is pioneering space-saving ways to bring elements of the suburb to the city.
The unique thing about MVRDV's latest design 'Cloud' for the Yongsan Dreamhub project in Seoul (masterminded by Daniel Libeskind, the architect behind Berlin's Jewish museum and planner of the Ground Zero memorial in New York) is the 'cloud' between the two towers. It will span the buildings from the 27th – 37th floors (the buildings are 54 and 60 storeys tall) and offer the sort of 'luxuries' (like plants, which produce oxygen, which we need) you'd expect to find outside, rather than inside, a teeming metropolis.
As well as gardens and patios, this platform in the sky will also host a conference centre, fitness studio with swimming pools, hotels for the upmarket residents' guests and restaurants and cafes where anyone will be able to enjoy panoramic views over the whole city. High-speed elevators will whizz the visitors straight to 'the cloud'. Never before has the 'middle ground' been such an exciting proposition. Yongsan Dreamhub project in Seoul is set to open in 2015.