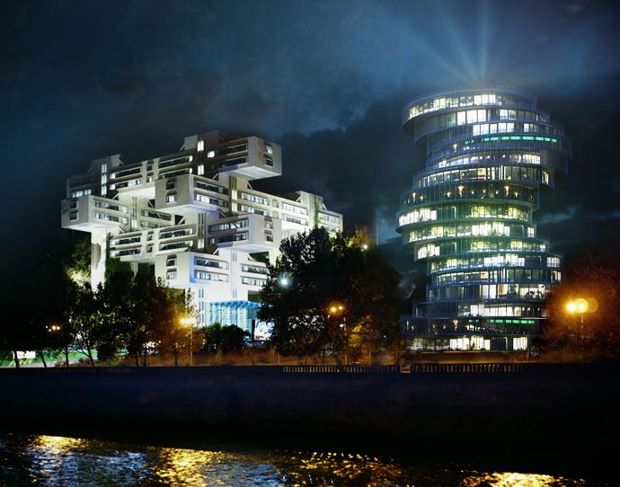 British firm offsets Soviet gem with a glass spiral
Robin Monotti Architects designs complementary building next to the brutalist Bank of Georgia in Tbilisi
What do you put up on a plot next to one of the finest examples of late Soviet architecture (so important in fact, that it features in our book Concrete)? London's Robin Monotti Architects' answer was to set-off all those brutalist concrete blocks of The Bank of Georgia in Tbilisi, Georgia, with a sleek glass spiral.
The London architectural firm has designed The Tbilisi Business Centre on a site just outside the heart of the capital of Georgia, beside the banks of the River Kura next to the incredible 1975 building.
The firm claims to have been inspired by some Colchetian gold temple spiral rings dating back to the 7th century BC, which are on display in the Georgian National Museum.
While this may be so, the new Business Centre needs no greater justification beyond its wonderful form – a good bit of Yin to the Bank of Georgia's Yang. The neighbouring 38-year-year-old, 18-storey building was designed for the Ministry of Highway Construction by Georgian architect George Chakhava – who also happened to be deputy minister of highway construction at the time. Yet any charges of wilful nepotism are soon dismissed by architectural critics across the world, who admire the bold interlocking shapes. Surely they will also be seduced by Robin Monotti's creation?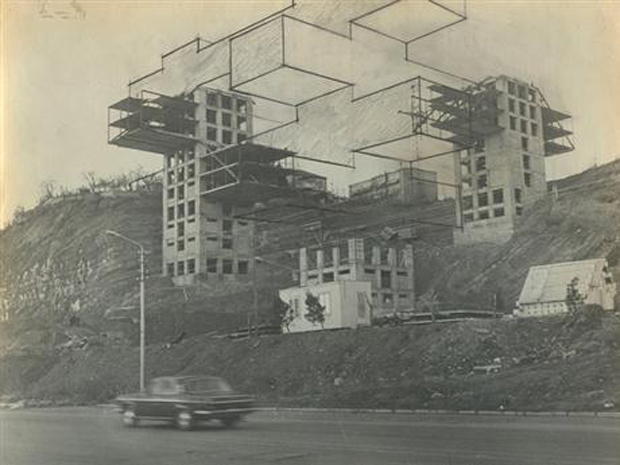 "RMA's Business Centre adopts a circular plan that avoids competing with the bank's box like cantilevers," the London architects explain. "Referencing the cantilevers are overhanging circular discs that create each floor of the Business Centre. The offset plans will allow outside relaxation spaces on each level."
It's a pleasing stack of glazed circular floor plates whose higgledy-piggledy nature give the building a real sense of movement, not unlike someone hoola-hooping, fact. Although Chakhava's building has protected status, it has fallen out of favour in recent times. Hopefully Monotti's response to it will give people cause to view it in a more sympathetic light. Either way, if any of those executives populating the Business Centre are feeling architecturally nostalgic, they will have a marvellous view.
To find out more visit Robin Monotti's site. To understand the architectural movements of the last century, please take a look at our 20th Century World Architecture. And for more on how we build today, consider our Atlas of 21st Century World Architecture. And if you prefer the building on the left take a look at Concrete.