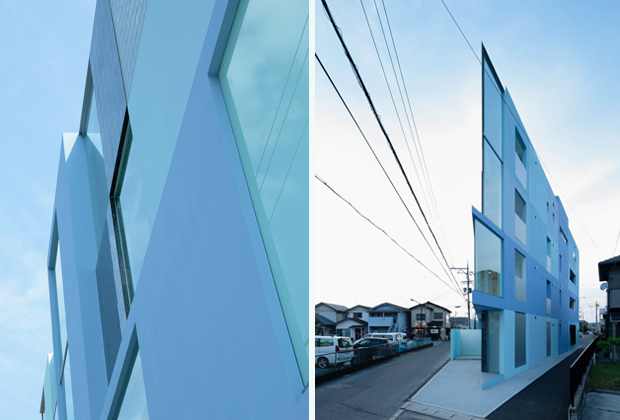 Cutting edge architecture
Is this residential building in Japan the sharpest building in the world?
This month's award for squeezing the most amount of building into the least amount of space must surely go to Kyoto architecture practice Eastern Design Office.
The site in question is in a mixed residential and manufacturing area in Youkaichi City in Shiga Prefecture. There are many big factories and not much space. The site is a wedge-shaped, flatiron lot that remained at a corner where two streets meet at an acute angle. The unloved space had been left behind following previous construction. No one wanted to buy it and the local council wouldn't invest in turning it into a park.
Now it's been brought to life with a highly inspired residential building by the small Kyoto practice. Their spokeswoman told Phaidon: "We wanted to highlight the discarded lot from the urban framework by emphasising its shape, building architecture similar to illusion. The edge of the triangular pyramid is like a wrecked boat, a fictional tip of a boat as if it were escaping from town. A corner that makes you feel you are nowhere at the end of the world, where no one can go further anymore. It is pretentious, yet it is surrealistic too."
The building, designed as a low rent space for city dwellers, features seven rooms, 1-3rd two units on each floor and one on the 4th floor. Each room comprises a living room of 13 metres, two bedrooms (13 metres and 9 metres), a prefabricated bathroom, 'kitchen system' and a toilet.