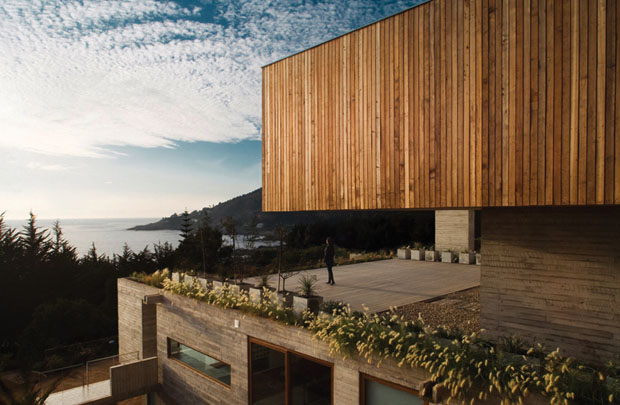 Terraced housing Chilean style
Santiago architects Elton + Leniz build this stepped seafront house right on the vertiginous Pacific coast
It's difficult not to get carried away by contemporary Chilean architecture. Time and again local practices come up trumps with super-stylish yet topographically appropriate creations. The latest commission of Santiago architects Elton + Leniz's is yet another example of this. The architects, who have a host of geometric and good-looking dwellings to their names, found themselves working with a steeply sloped site with views to the Pacific coast. So they designed Casa El Pangue in tiers - four levels in fact, with three terraces.
"We worked the steep site with a terrace on every level, with the volumes of the building each facing out from the site to the sea," explains architect Nicolás Jure Wilkens. While the lower storeys are in concrete, the upper ones are made of wood, which will fade from brown to grey with age - creating a pleasing textural complement to the concrete below. Bedrooms are on the top levels.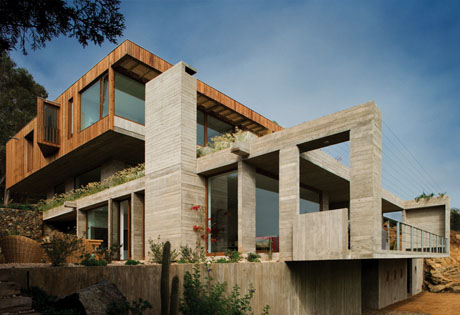 Some of the terracing is planted, so that the grasses blowing in the breeze contrast with the strict angles and plains of the building materials. Many of the windows are floor-to-ceiling, offering sliding doors directly onto the outdoor space. Inside, the timber and concrete continues, combining to form a dwelling as spectacular as its views.
There are a lot of breathtaking South American buildings in our Atlas of 21st Century World Architecture, which features the best new buildings from around the world, and also our 20th Century World Architecture - both of which are on offer in the store right now.