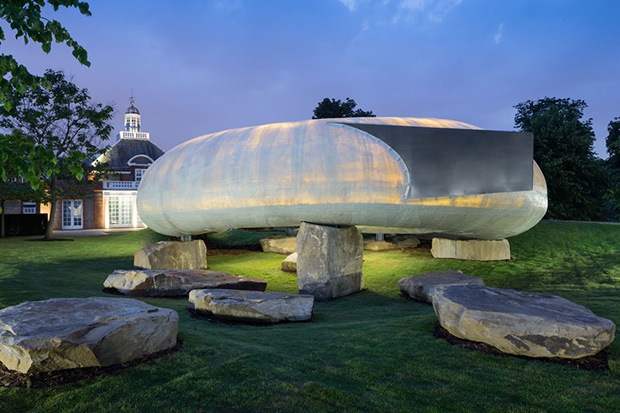 Why Chilean architecture is having a moment
As the Serpentine Pavilion opens, we talk to Chile's cultural attaché and the minister for architecture and design
We caught up with the cultural attaché and the director of architecture and design of the Chilean Ministry of Culture this morning, ahead of tonight's official opening of the Serpentine Pavilion by the great Chilean architect Smiljan Radic, who's practice page you can view in the Phaidon Atlas here.
We were especially interested in talking to them as it seems Chilean architecture is having a bit of a moment right now. Serpentine Pavilion co-director Julia Peyton-Jones has referred to the "Chilean miracle" and it does seem that the Pavilion commission is the tip of a very big iceberg as Cristobal Molina, Director of Architecture & Design of the Ministry of Culture, explained to us.
"I think the last 20 years have been very important for a new generation of new Chilean architects. This moment is kind of fantastic with the pavilion and the fact that we also won the Silver Lion at the Venice Biennale (for the national pavilion Monolith Controversies) and Pezo von Ellrichshause's showing at the Royal Academy's Sensing Spaces earlier this year. So it's nice because we have a very special architecture."
When Phaidon launched the Atlas in Venice a few weeks back we hosted a talk at the British Pavilion around the question as to whether there was still such a thing as a national architecture. Understandably, we wondered if there was a Chilean national characteristic one could discern in its architecture.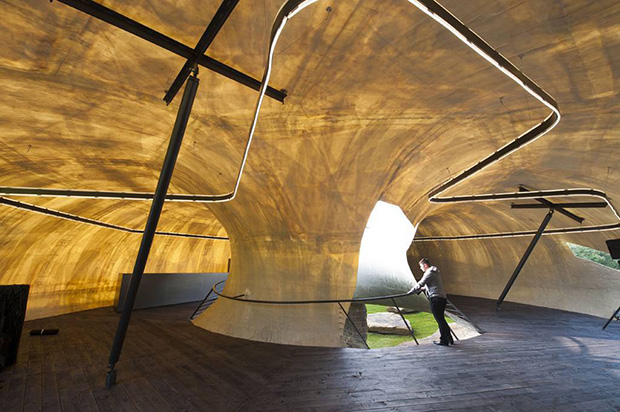 "Chile is a very long country. If you put it in Europe it would run from Scandinavia to North Africa," cultural attaché Christian Leon told us. "So basically you have all these different landscapes and the Chilean architects have developed this capacity to work with all the different landscapes and to insert their work in the most strange conditions."
The end of Chile's dictatorship also led to a rise in the number of architecture schools, "the new economic system permits private universities so there are a lot now of those now," Molina said. He also thought the approach of Chilean architects was slowly changing. "Ten years ago the best Chilean architects did work with fantastic landscapes but now it's more in the public domain of cities," he said. "This is partly because there are more competitions with good juries. I am the head of this new architecture unit and our council of culture is trying to make policies around the quality of architecture and we're trying to support more competitions and bring quality to the cities."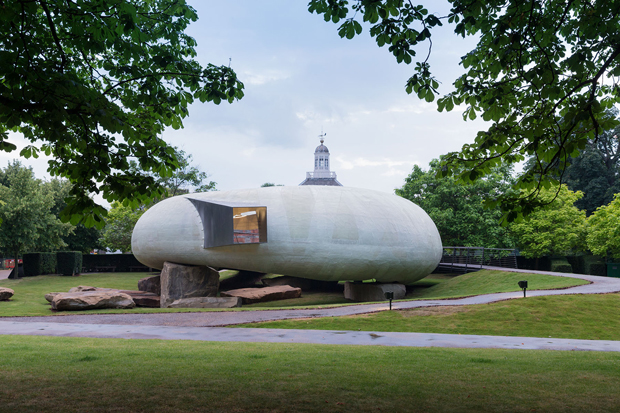 Despite the growing competition, Molina believes Radic is the best architect operating in Chile right now. "In my opinion, yes, I think he's the best Chilean architect. He makes a very particular kind of work. It's very different, and very hard to define. He's very much involved in the projects and I think he's very sensitive with art. It's kind of disconcerting but in a positive way, if that makes sense!"
At the press launch of the pavilion yesterday, Radic said that for him, the site of the Serpentine Pavilion was "a really symbolic place. For me this pavilion is a folly," he said. "And the folly historically is a romantic place, a place of extravagance and a place of atmosphere. So this pavilion had to both occupy and create a symbolic place." He added that he felt that "a giant made the model as a gift for London."
Radic's cast structure (made in Yorkshire) resembles a pebble. At night however, it glows. It started life as a papier-mâché model with the strips of paper layered on top of a rubber ring. "In England you build with layers of structure and waterproofing," Radic said yesterday. "I'm interested in more fragile structures creating an enclosure with a thin single skin." Radic added that his pavilion commission was inspired by the writings of Oscar Wilde and David Hockney's etchings of Grimm's Fairy Tales.
Find out more about Chilean architecture by signing up for a free Atlas trial here and Radic in particular by checking out his Phaidon Atlas practice page here.