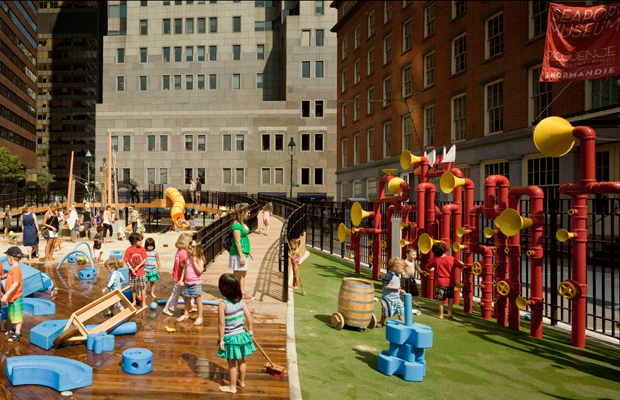 Child's play: David Rockwell's Imagination Playground
How the viewing platform at Ground Zero inspired a new kind of playground, 'where kids do what they do best: build, create, imagine'
Last summer Rockwell Group's ground-breaking Imagination Playground, a public-private partnership with the New York City Department of Parks & Recreation, opened at Burling Slip in the South Street Seaport area of Lower Manhattan. For a world-famous architect to take on a small-scale playground project is probably considered unusual, but for David Rockwell the interest was in the detail and the challenge of getting children to play in an innovative way.
'The playground began as an investigation, as research. I have two kids that are at the age where they love playgrounds and I watched them play and it got me thinking about how I could help Lower Manhattan post 9/11 with some new ideas,' says Rockwell. 'We funded and built the viewing platform at Ground Zero and, through that work and my thoughts on playgrounds, I asked myself: "Is there a way to approach a playground for kids where they can build, imagine and fantasise?"'
With a focus on loose parts the playground offers a changing array of elements that allows children to design their own course of play and constantly reconfigure their play environment. The project therefore centres around the idea of a playground as a place of adventure that allows children to find many different types of play, rather than prescribed activities.
'I think the thing about playgrounds [in the US] is that they have great opportunities for kids to run around but they are very linear in terms of play value,' explains the architect. 'If you look at the post-World War II playgrounds in London they were great - the kids were encouraged to take things and make play opportunities themselves. So we looked at incorporating lots of loose parts so kids could make something new every day and we also wanted it to be a multi-level space for kids to inhabit.'
Imagination Playground incorporates an open multi-level space with large sand and water features, a variety of loose parts, including building blocks, and on-site trained staff who maintain and manage the area. Together these elements enable children to play in an intuitive way: build something, tear it down and start all over again.
The initiative has been so successful that Rockwell and his team are working on more playground offerings across the world (a portable version has been available for some time, with 'around 150 in use across the world'). So far the practice has been approached to do other playgrounds in New York at the South Bronx, Atlanta, Los Angeles and in the Middle East.
'Play has been beaten out of kids with so much emphasis on academic work,' continues Rockwell. 'I wanted to create a space to free up kids to do what they do best: build, create, imagine.'
Andrea Klettner is a freelance journalist and the editor of Love London Council Housing