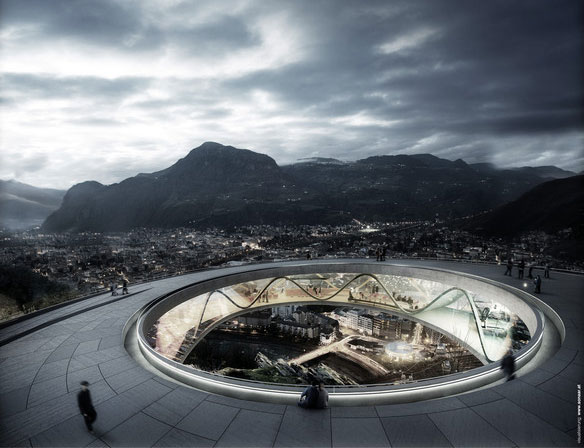 Snøhetta takes to the mountains in style
Scandanavian superstar architecture practice turns its attention to the Italian Alps - just in time for winter
The city of Bolzano in northern Italy is the recipient of an upwardly-mobile transport concept by Norwegian super stars Snøhetta. The firm, best known for its waterside home for the Norwegian National Opera and Ballet in Oslo, has designed a mountain funicular.
The cable car would take people from the 100,000-strong Alpine city up the side of nearby Mount Virgolo. The architects estimate the journey from the centre of the provincial capital would take just five minutes. Conveniently, the route would go through two Snøhetta-designed stations – one at the base of the mountain, and one at the further up – and that part of the trip would be a mere 71 seconds.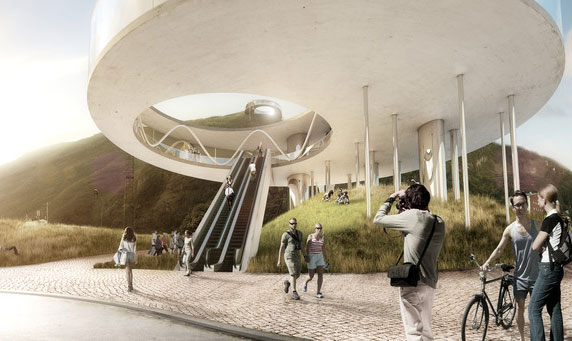 The concept was prompted by Signa Group, a privately-owned property company based in Austria, who invited international firms including Zaha Hadid Architects and Coop Himmelb(l)au to enter its design competition. Signa's jury were no doubt wowed by Snøhetta's space-age stations, clad in local marble for a futuristic effect.
"This conceptual idea of continuous travel, a continuous journey up to the mountain, inspired us to make this circular design," says Patrick Lüth, a lead designer at Snøhetta on the scheme. The upper station would be very much mixed-use. As well as a 120-seat restaurant and a bar, it would house an exhibition and event space. Meanwhile its roof would double as a so-called mountain plaza or viewing platform which could also hold events.
Travel would take place in 16 cable cars, each one holding eight passengers. Snøhetta likes the idea of customising the interiors. Although this was a conceptual competition, Signa have suggested South Tyrol's biggest city could have this new funicular by 2017. This would be some 40 years after the previous cable car ceased running.
For more on contemporary architecture around the world buy The Phaidon Atlas of 21st Century World Architecture Travel Edition and while you're in the store take a look at our other great architecture titles.