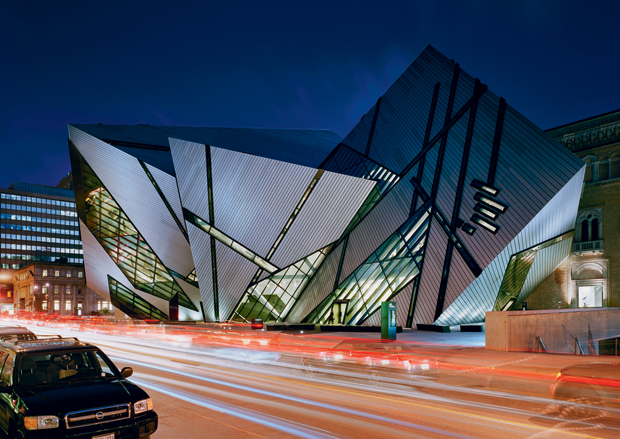 The 12 Days of Architecture: #9 Toronto, Canada
Renaissance ROM Gallerieis by Studio Daniel Libeskind with B+H Architects
Studio Daniel Libeskind is the architectural firm behind countless iconic buildings - among them Berlin's groundbreaking Jewish Museum (which celebrated it's 10th anniversay this year) and the recent dramatic edition of a jutting, wedge of glass to Dresden's nineteenth century Military History Museum. And when it came together a few years back with Toronto based B+H Architects to collaborate on the renovation of the Renaissance ROM Galleries in Toronto, the results were no less awesome.
Renaissance ROM consists of a dramatic extension and renovation of 10 galleries belonging to the existing building of the Royal Ontario Museum, Canada's largest museum of natural history and world cultures. The museum sits at the intersection of Queen's Park Crescent, the site of the Ontario Parliament buildings, and Bloor Street, one of Toronto's busiest shopping streets. Its steel structure comprises five interlocking, self-supporting prismatic volumes which rise from between the wings of the existing building. A prow-shaped volume cantilevers over Bloor Street and reaches down to street level to form the museum's main entrance.
Since the Museum's trustees believed that transparency was essential to engage with the city, windows comprise 25 per cent of the facade, punctuating the cladding of brushed aluminium strips, allowing views into the galleries. Inside, transparency of movement was a major objective. From the spacious entrance hall, two staircases lead up to the Crystal galleries and another one down to the Blockbuster Gallery in the basement, which houses large international exhibitions. Approximately half the extension is devoted to gallery space, while the rest of the space contains a shop on the ground floor which is directly accessible from Bloor Street, three new restaurants and offices.
Studio Daniel Libeskind's next project is the Reflections at Keppel Bay development in Singapore. The luxury waterfront residential complex of 1129 units on approx. 84,0000 m² of land with 750m of shoreline and will be completed by 2013.