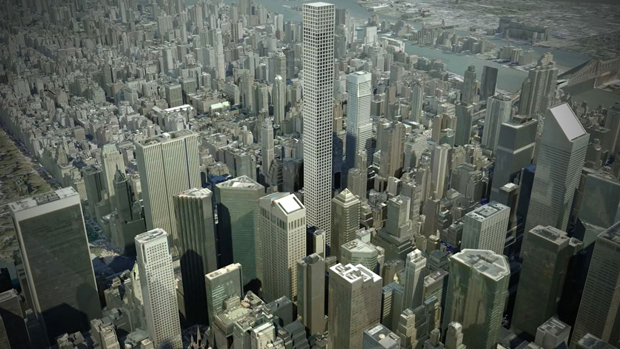 Viñoly's NY apartments to be highest in the West
Around $100 million 'should' secure you a penthouse at 432 Park Avenue when it completes in 2015
If you're in the market for 10ft high, 10ft wide windows, solid oak flooring, a wine cellar, staff quarters, and some of the best views in Manhattan, then you'll just have to wait a couple of years. Rafael Viñoly's $1bn luxury skyscraper will be ready for occupancy in 2015, when it will become the tallest residential building in the Western hemisphere. In fact at 1396ft, it will be around 30ft higher than Skidmore, Owens & Merrill's One World Trade Center and will become the tallest building in New York on its completion.
Neverthless, they're both squat in comparison with Dubai's Burj Kalifa which, spire included, will peak at 2,716.5ft. That, too, is a SOM affair. But what Viñoly's 432 Park Avenue lacks in absolute super tall height, it more than makes up for in aesthetics. The architect says it was created around "the purest geometric form: the square" in order to evoke a sense of graceful compactness. And indeed, it is deceptively simple in its form, making certain other skyscrapers look positively over-designed. A stone's throw from Central Park, it's defined into six volumes, with amenities in the lowest volume, and different types and sizes of apartments mixed up within the rest. Some will be 3520-sq-ft studios, while the most deluxe is a penthouse with six bedrooms, seven bathrooms and its own library. This one apparently already has an offer of $95m. The homes will be decked out by Viñoly's firm and Fifth Avenue interiors practice Deborah Berke.
If you'd like a little more perspective on how and why architects build tall you really should check out our books Understanding Architecture, The Future of Architecture since 1889 and Modern Architecture Since 1900. Each of them is a brilliant read and any one or all three of them will really enrich your understanding of the architecture world.