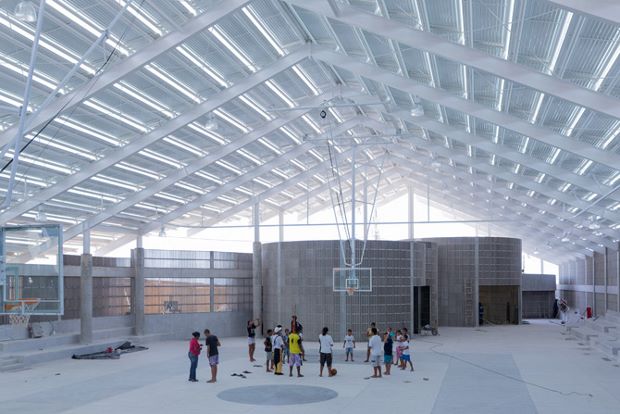 Herzog & de Meuron build a stadium in a favela
The Pritzker-laureates cut out the air con and waive their fee to create the neighbourhood facility, Arena do Morro
Swiss architects Herzog & de Meuron have followed up their two jaw-dropping sports stadiums – Munich's Allianz Stadium, and the Bird's Nest Olympic stadium in Beijing – with a pro-bono alternative in a Brazilian favela.
The Arena do Morro sports, cultural and social centre replaces an old roofless, wall-less stadium. It stands among the red-tiled roofs and cobbled streets of the tough favela, Mãe Luiza, between the city of Natal's high-rise office blocks and beach hotels.
Herzog & de Meuron's sweeping roof is made of standard corrugated aluminium panels. "Instead of being tightly joined, the panels are installed with open yet overlapping gaps that allow light and air in but keep water out," they say.
This roof sits on a curved wall of specially developed and locally manufactured concrete blocks. "Each block has diagonally positioned vertical fins with rounded edges," the architects add. "By rotating the blocks, different orientations of the fins create various levels of transparency as well as privacy."
Inside is the central sports pitch, flanked by seating for a crowd of 425. Around it stand pavilions housing changing rooms, a teachers' room, public lavatories, and multi-purpose rooms for coaching sports, dance and martial arts and for teaching reading, writing and arithmetic. "It's a nice place to hang out in a hot and humid city and with no need for air conditioning," says Ascan Mergenthaler, the partner in charge.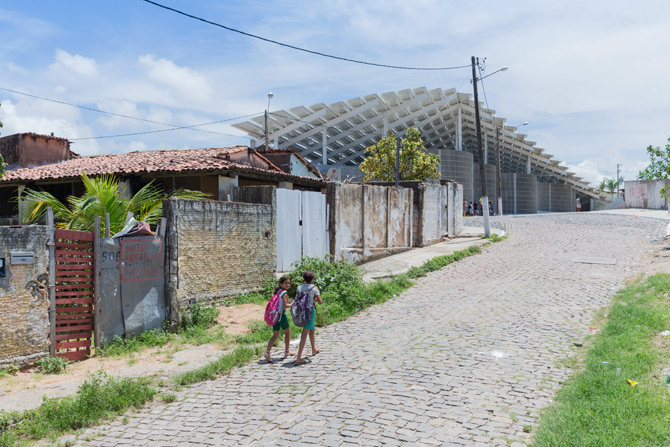 The firm, which was commissioned by the philanthropic Ameropa Foundation, has also devised a long-term scheme for Mãe Luíza, with tree-lined streets and a ribbon of affordable, locally designed civic buildings. "We would be happy to carry on our involvement in the neighbourhood and hope for this project to take the development of Mãe Luíza further," says Mergenthaler.
Find out more here. For greater insight the way we build today, sign up for a trial of the Phaidon Atlas, our peerless online architectural resource. For more on Brazilian architecture, as well as insight into the country's design, fashion, film, food, graphic design, music, photography and street art, order a copy of our Brazil book.