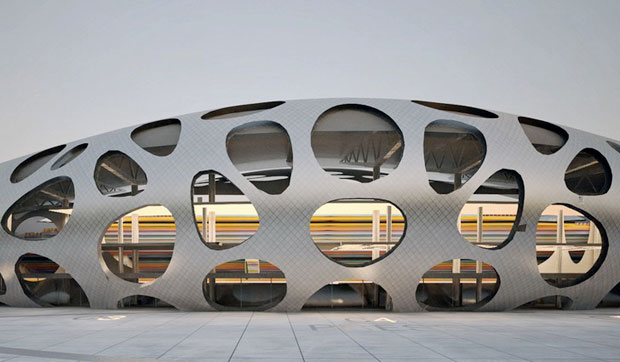 Slovenians land futuristic stadium design in Belarus
Aluminium clad 'spotty stadium' by OFIS Arhitekti majors on acoustics - let's hope the supporters' voices are up to it
Good design should be about form as much as function. And the inventive Slovenians at OFIS Arhitekti have pulled that double act off with aplomb in Belarus.
Their new stadium for football club FC Bate Borisov – who are in the Belarusian Premier League - has irregular-shaped blobs carved out of its aluminium cladding. It's these cut-outs, combined with the rounded oval design that give the stadium its excellent acoustics.
Borisov, population 180,000, is in the heart of the republic. The new scheme replaces the rather basic Borisov City Stadium from the mid-1980s, which held just 5,500 fans. Meanwhile, the city's FC Dynamo Minsk Stadium, where the team played their European matches, is also being upgraded. This one has quite an interesting history, as it was originally built in the 1930s, reconstructed after WWII, upgraded for Moscow's hosting of the 1980 Olympic Games, and was closed two years ago for yet another revamp.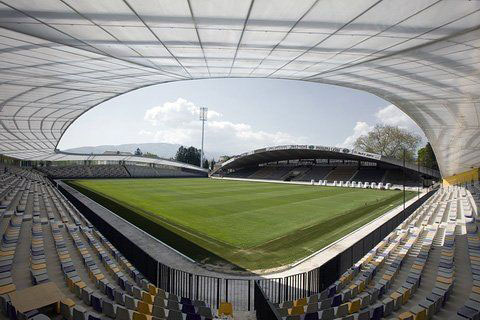 The designers at OFIS explain their design thus: "The arena forms a unified rounded dome which gives the impression of a single enclosed object, and despite its medium size it has the impression of a large, dominant and powerful landmark."
The perforations run along the four rounded sides of the shell, while the upper part, which curves up in gentle undulations to keep the spectators sheltered from the elements, is solid.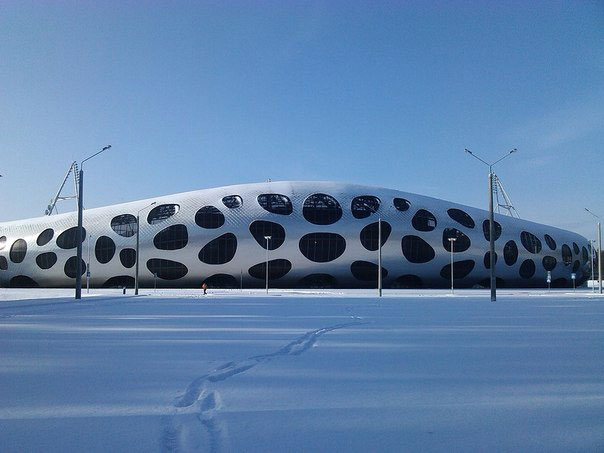 OFIS hope their 13,000-seater 'Spotty Stadium' will be open for business by the end of the year. Set up in 1998 by Rok Oman and Spela Videcnik in Ljubljana, OFIS has a string of good-looking projects to its name. This is the duo's first stadium, but given the world's insatiable appetite for sporting events, it may well not be their last. Stadia feature large in many of Phaidon's architectural publications, apps and in our new, online Atlas. Check out the architecture section in our online store here, check out the Phaidon Architecture Travel Guide App here and take a free trial with our newly launched online Architecture Atlas here.