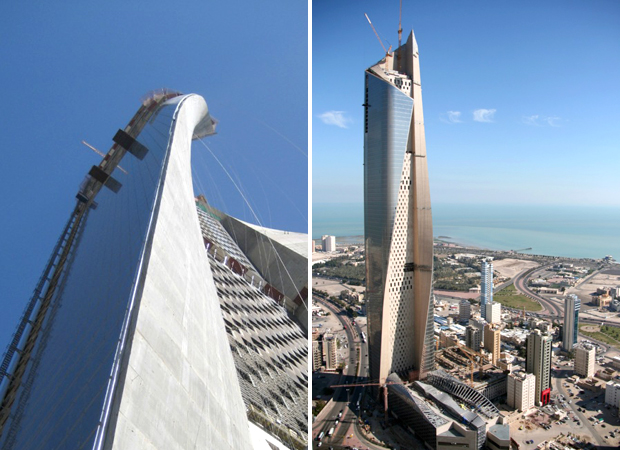 Tallest building in Kuwait nears completion
Skidmore, Owings and Merill's Al Hamra Firdous Tower almost ready for business
On the site of Kuwait's first cinema now rises the Arab State's tallest building, the Al Hamra Firdous Tower. Designed by Skidmore, Owings & Merrill (SOM) the tower has been named one of the best inventions of 2011 by Time Magazine. The only already existing building to be included in the round up, it was chosen as one of the "50 most inspired ideas, innovations and revolutions."
Due to be completed in the coming month, the Al Hamra Firdous Tower is one of the 10 tallest skyscrapers in the world, rising 412m. Supported by a monolithic stone wall on its south side, the tower's northern side wraps around the building. The openings of the envelope created are based on the movement of the sun and their position is designed to minimise the tower's solar heat gain.
The opening of the building provides brilliant views across the Arabian Gulf which will be even more improved when viewed from the skybridge which will connect the two wings, affording "a dramatic spatial experience with deep sculpted windows in the south wall providing dramatic views south towards the city, the peninsula and the infinite desert beyond," according to the architects.
The Al Hamra Firdous Tower is not however SOM's highest achievement. In 2010 the completed work on the Burj Khalifa in Dubai which rises 828m - over double the height of the Al Hamra Firdous. The 75-year-old firm, which has offices in New York, Chicago, London, Shanghai and Mumbai is also due to complete One World Trade Center in 2013, adding another skyscraper to the firm's bulging portfolio which already includes the Solow Building in Manhattan, the AIG Tower in Hong Kong and the master blueprint for Canary Wharf in London.
Most recent of these is SOM's design for the Applied Science Campus of Cornell University & Technion. The two million square feet campus sits on Roosevelt Island and is planned to be one of the most technologically advanced and energy efficient academic campuses in the world. It is due for completion by 2017.