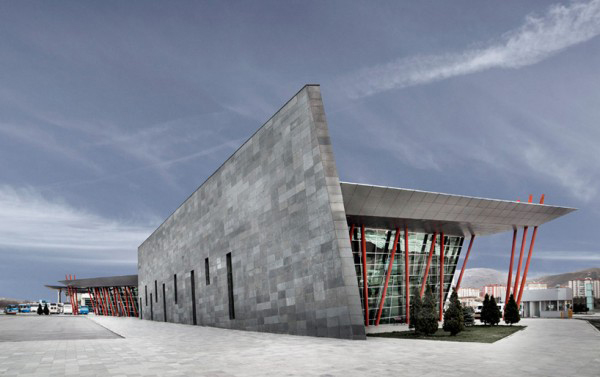 A bus terminal worth waiting for
Turkey's youngest architecture practice Bahadir Kul Architects bring a sense of style to the bus terminal in Kayseri
For a truly stylish public transport experience, Turkey is now the place to head for thanks to one of the country's youngest, and most successful, new architects. The city of Kayseri in Central Anatolia has a new bus terminal with a smart grey stone-clad wall zig-zagging around a pair of glass foyers, and bright red angled columns which appear through the flat roof.
The hope is that the Kayseri West City Bus Terminal will alleviate traffic congestion in the west of the city. It's the design of Bahadir Kul Architects.
The aim was to create a terminal building that could accommodate buses and passengers for the outlying villages as well as the city. The two foyers are separated in the z-shaped building, as are the ticket offices. Meanwhile, the terminal management office, agency offices, security offices, kiosks, mosques, restrooms and technical offices are within the passenger foyer of the county terminal, say the architects.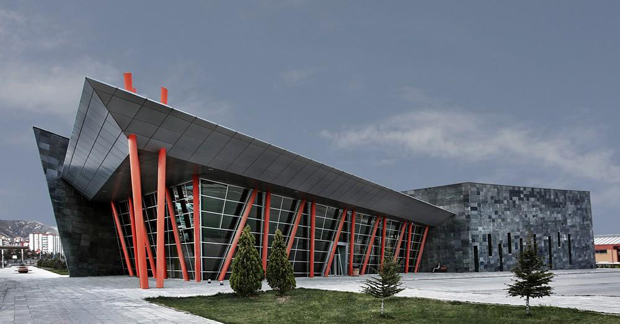 Kul, who is still only in his 30s, opened his first office, in Kayseri, in 2003 in Kayseri. BKA, which is now 50-strong, has two further offices in Istanbul and Baghdad.
The practice has been responsible for a number of good-looking schemes in the city, including the Kayseri City Stadium, a gym, an athletics track, Olympic swimming pool, water-ski park and an open-air sports complex in the city. In fact five years ago, BKA completed the Kayseri Intercity Bus Terminal, a much more conventional offering with a concrete curved roof.
For more on cutting edge Turkish architecture check out the Phaidon Atlas which features around 20 new buildings from all over Turkey - from textile factories to tourist attractions. You can sign up for a free trial here.