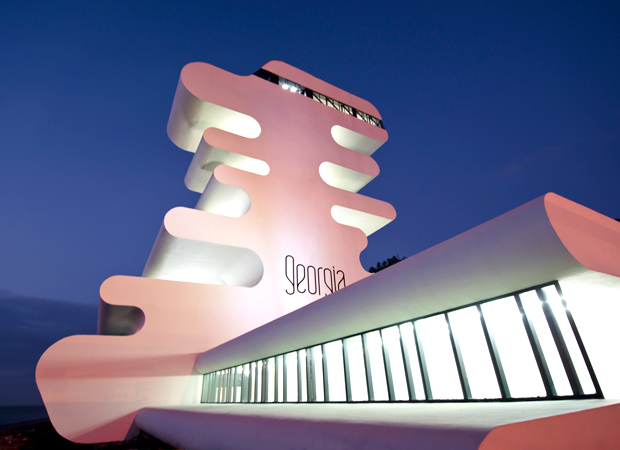 Welcome to Georgia
If more border checkpoints looked like this it wouldn't matter how long the queues were
With debate raging in England over the relaxing of border controls in order to cut queue waiting times this summer, we couldn't help but think that if the checkpoints in question looked a little more like this one, built by Berlin-based architects J. Mayer H., visitors might not be quite so bothered about the length of the queue.
The border crossing, at Sarpi, on the shore of the Black Sea between Turkey and Georgia, looks a little like a giant jigsaw puzzle piece. Drivers pass below its cantilevering terraces. Meanwhile, the tower is used as a viewing platform, with multiple levels overlooking the water and the steep part of the coastline.
Founded in 1996 in Berlin, Germany, J. Mayer H. Architects' studio, focuses on works at the intersection of architecture, communication and new technology. From urban planning schemes and buildings to installation work and objects with new materials, the practice aims to explore the relationship between the human body, technology and nature in a bid to create new kinds of spaces.
Founder Jürgen Mayer H. has won numerous international awards including the Mies-van-der-Rohe-Award-Emerging-Architect Award. Jürgen Mayer H. himself has taught at Princeton University, University of the Arts Berlin, Harvard University, Kunsthochschule Berlin and the Architectural Association in London.
The company's largest build to date was the Metropolis Parasol, a 150 by 70-metre cluster of wooden 'mushrooms' housing an antiquarium, market and restaurant which opened in April in Seville, Spain. The practice also designed a design loft at Qubique the Berlin design show last month.
And if you're thinking the border post possibly looks more hi-tech than it needs to be, the Georgian border has traditionally been a favourite with smugglers of nuclear material.