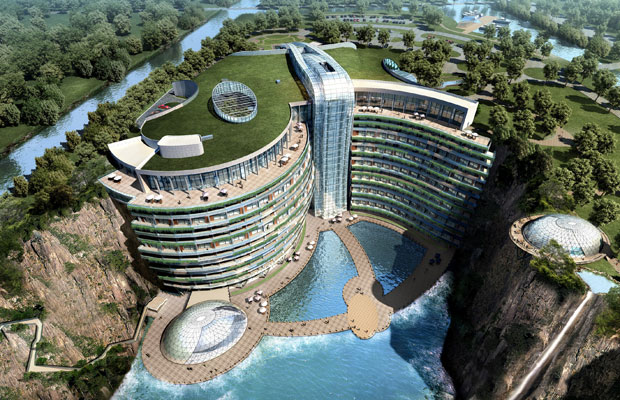 The Chinese hotel with a built-in waterfall
"We drew our inspiration from the quarry setting" says Atkins Design Studio
With its 650 architects spread around the world in 60 offices, Atkins Design Studio may seem like a corporate behemoth, but it does get some pretty amazing gigs. In the hospitality sector alone, the practice is responsible for the Burj Al Arab in Dubai, and the Jakarta Bay Arch Hotel – whose design really is a lofty looping arch. But these are nothing compared with its latest efforts.
Songjiang is a popular weekend destination for residents of Shanghai, where they can hang out in some lush, unspoilt countryside. Atkins' five-star Songjiang Hotel will benefit from these vernal surroundings, while taking pride of place on and within the 100m-high wall of an abandoned quarry. To add to the excitement, the quarry has been partially filled with water, so that two of the building's 19 floors – including a restaurant - are under water.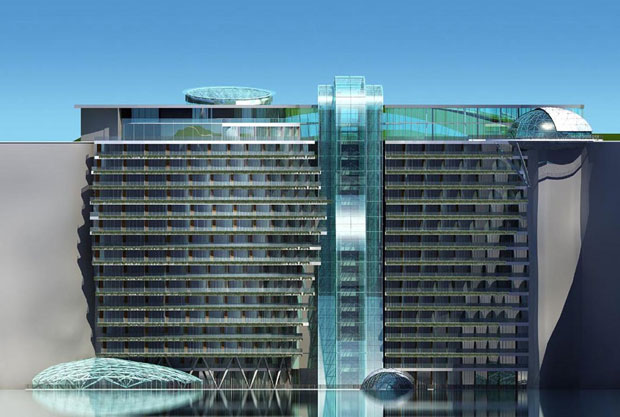 "We drew our inspiration from the quarry setting itself, adopting the image of a green hill cascading down the natural rock face as a series of terraced landscaped hanging gardens," says the architect, whose HQ is in the leafy UK town of Epsom in Surrey.
While the hotel building bulges out of the side of the rock face, a waterfall next to it cascades into the lake beneath. And down there, guests will be able to indulge in all manner of extreme water sports, bungee-jumping and rock-climbing.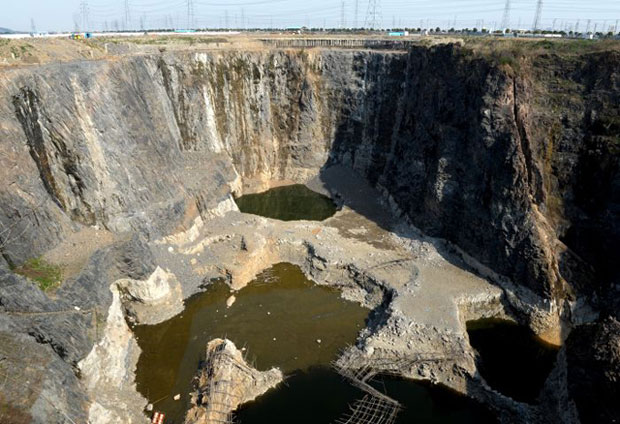 Atkins, who celebrated winning the commission way back in 2006, has at last started the construction. It plans to have the Songjiang ready for business in 2016.