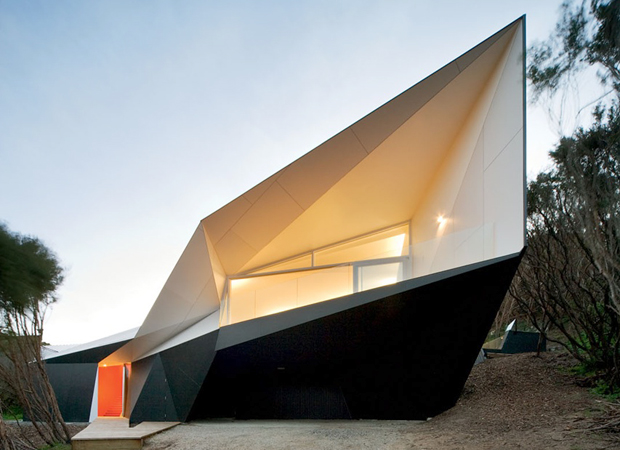 The Australian beach house with a twist (or two)
McBride Charles Ryan's Klein House is based on 'the Klein bottle' - a structure with only one definable surface
As you know, we're focussing on Australia this month, so we're taking the opportunity to take a look at what we think is one of the most conceptually innovative houses built on Rye Beach on the South Coast, an-hour-and-a-half or so outside Melbourne. The unconventional structural complexity of McBride Charles Ryan's _Klein House _has led to it winning numerous architectural awards, including being named best house at the 2009 World Architecture Festival Awards. The shape is inspired by the 'Klein Bottle' - a mathematical term which refers to a non-orientable surface, without a top, bottom, left or right and with no boundary to its shape.
The jutting angles, elevated platforms and irregularity of its footprint give _Klein House _a distinctly disorientating quality. The outer flat surfaces are painted black while the building's recesses are white, adding to the dramatic visual impact. The resulting structure also bears some relationship to the classic Australian cement sheet beach house as well as bringing to mind the experimental houses of Australian architects in the 1950s, notably, Peter McIntyre and Robin Boyd.
McBride Charles Ryan wanted a building that nestled within the tree line of the surrounding area and that had a sense of playfulness in an effort to reflect the essence of a holiday home. Built around a central courtyard with an internal stairway connecting the various levels, the house appears, from some angles, to be folded in on itself. The practice has also been shortlisted at the World Architecture Festval 2011 for its Penleigh and Essendon Grammar School in Essendon. It's also currently working on a $1 billion project - Victorian Comprehensive Cancer Centre - in Parkville (a suburb of Melbourne) due for completion by the end of 2015.
Sign up to the Phaidon newsletter to get future updates.