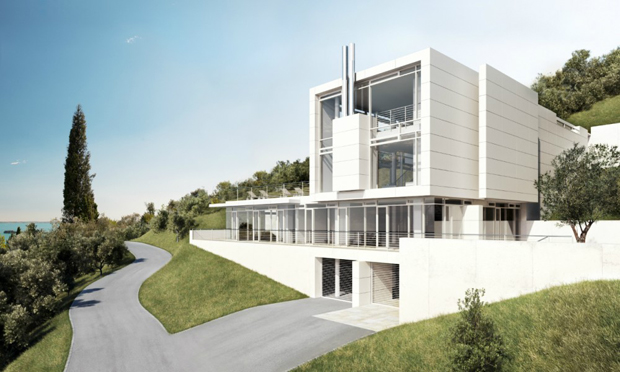 Does this building really exist?
Richard Meier & Partners's new building on the shores of Lake Garda looks real enough, but is it?
We love Richard Meier's work so it was great to find an excuse to pore over these images of a new housing development his practice is involved with on the shore of Lake Garda in Italy.
Apart from the beauty of the building itself the pictures generated a heated in-office debate on whether they were real or computer-generated. Of course, we're used to seeing fantastical CGIs of buildings now, such as architectural photographer Filip Dujardin's Fictions project and, at the other end of the scale, shoddily put together images of yet-to-be-built shopping malls with blurred people hastily photoshopped in. These however, take the idea of reality to another level.
Villa Gardone, sitting on the edge of Italy's largest lake, is a vast four floor residence which will give its eventual owner spectacular views of the water (just 300m below) and the surrounding mountains. The villas' design has been greatly influenced by the direction of the sun and the placement of its rectangular structures along the steep slope towards the water.
1984 Pritzker Prize-winner Richard Meier worked briefly for Skidmore, Owings and Merrill in the late 1950s before working with modernist master Marcel Breuer for three years, prior to founding his own practice. Much of his earlier work was heavily influenced by Le Corbusier though Meier has taken those ideas further than perhaps anyone else. The influence of Frank Lloyd Wright and Mies Van der Rohe is also evident in his work.
Richard Meier & Partners describe Villa Gardone as a reflection of classic design principles, representing "continuous exploration of solid and void, transparency and opaqueness, light and texture, and the interrelation between the ephemeral with the physical world." By the way, if you haven't worked it out yet the images are computer generated. The complex will be finished by 2014. At least we know exactly what it will look like.