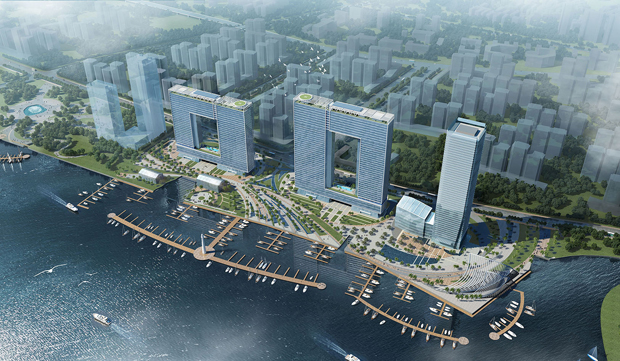 Atkins reinvents office windows in China
Architects say 001 symbolises Guangzhou as first Chinese city open for international trading many dynasties ago
China is becoming the go-to place for hollowed-out building forms. The fanciest so far is OMA's HQ for China Central Television in Beijing in 2002. That three-dimensional loop, which was designed, say the architects, as "an alternative to the exhausted typology of the skyscraper". Meanwhile, Beijing architects MAD are behind a doughnut-shaped Sheraton Huzhou Hot Spring Resort which stands in the waters of Taihu Lake (take a look, left).
And now long-standing international design and engineering firm Atkins Global have unveiled their plans for a brace of hollow office blocks in the capital of Guangdong province. The 17,500-strong group hope that what they describes as the "unusual" development "will become the new icon of Guangzhou".
Called the Window of Guangzhou, they are intended to resemble floating apertures, with a third more conventional tower of 208m standing next door. "From a distance, the development reads as '001'," say the architects, "which symbolises Guangzhou as the first Chinese city open for international trading as a port for the ancient Silk Road several dynasties ago and again revitalised in the late 1970s."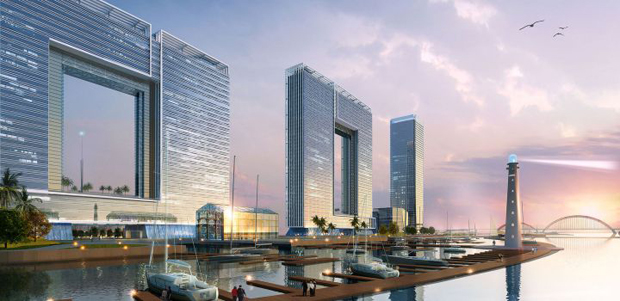 Atkins, which was founded in London back in 1938 by Sir William Atkins, and quickly became involved with post-war regeneration, was briefed by China Communications Construction Company, one of the country's biggest state-owned operators. Shu Guang, project director at CCCC, says of the scheme:
"Atkins' design concept demonstrates the importance of Guangzhou as a gateway to China for the world. The window-shaped buildings promote the city's image as an important location for China's import and export business."
Atkins hope their design will allow city dwellers to maintain their view onto the nearby Zhujiang River. The development is scheduled to complete in 2018. Check out Atkins Global's practice page in the Phaidon Atlas. And sign up for a free trial here.