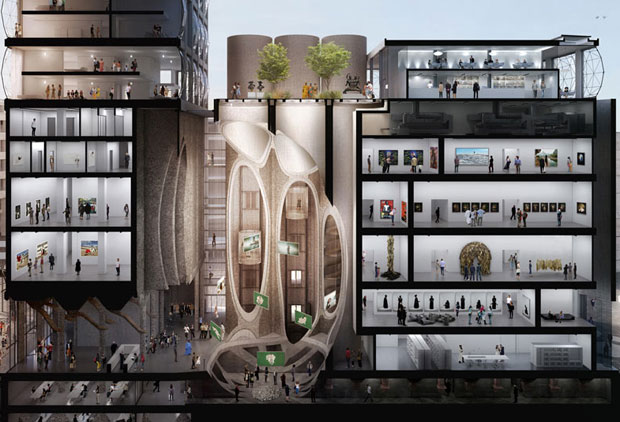 Thomas Heatherwick's African art museum
V&A Waterfront unveils architectural plans by Heatherwick Studio for historic Cape Town Grain Silo Complex
As creator of the London Olympic Cauldron, the New Bus for London and the UK Pavilion at the 2010 Shanghai World Expo, Thomas Heatherwick, is no stranger to a potentially tricky brief. But the one handed to him to reimagine the Grain Silo Complex on the V&A Waterfront in Cape Town with an architectural intervention inspired by its own historic character was, even for him, challenging to say the least.
Imagine forty‐two 33-metre high concrete tubes each with a diameter of 5.5 metres, with no open space to experience the volume from within. Imagine redesigning this into a functional space that will not only pay tribute to its original industrial design and soul, but will become a major, not-for-profit cultural institution housing the most significant collection of contemporary art from Africa and its Diaspora.
The V&A Waterfront's challenge to repurpose what was once the tallest building on the Cape Town skyline called, according to Heatherwick, "for a solution that would be unique for Africa and create the highest possible quality of exhibition space for the work displayed inside. It was a chance to do more than just appropriate a former industrial building to display art, but to imagine a new kind of museum in an African context," the architect says.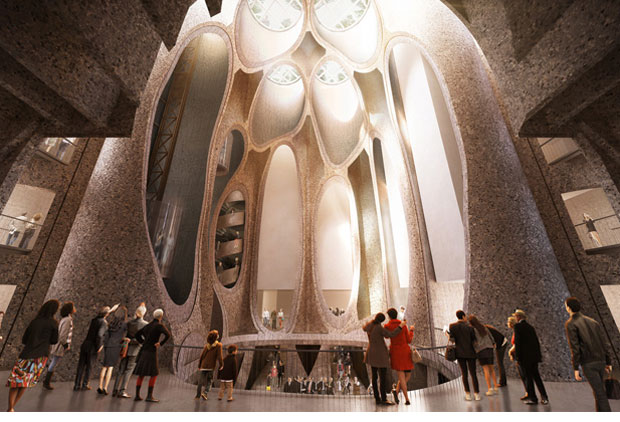 True to the brief, the redevelopment will retain and honour the historic fabric and soul of the building while transforming the interior into a unique, cutting‐edge space to house the Zeitz Museum of Contemporary Art Africa (Zeitz MOCAA) - the most extensive and representative collection of contemporary art from Africa. The key challenge was to preserve the original industrial identity of the building, which is heritage listed, and to retain choice pieces of machinery to illustrate and maintain its early working character.
Heatherwick Studio 'carved' galleries and a central circulation space from the silos' cellular concrete structure to create a spacious, cathedral‐like central atrium filled with light from an overhead glass roof. Light streaming through this new glass roof will accentuate the roundness of the tubes, while the chemistry of these intersecting geometries creates an extraordinary display of edges, achieved with advanced concrete cutting techniques. The atrium space will be used for monumental art commissions previously unseen in Africa. The collection of old underground tunnels will be re‐engineered to create unusual education and site specific spaces for artists to dialogue with the original structure.
From the outside, the greatest visible change is the creation of special pillowed glazing panels, inserted into the existing geometry of the grain elevator's upper floors, which bulge outward as if gently inflated. By night, this transforms the building's upper storeys into a glowing lantern or beacon in the harbour.
For more innovative international architecture, consider The Phaidon Atlas of 21st Century Architecture, the Phaidon Architecture Travel Guide App, and our recently launched Online Atlas. You can sign up for a free trial for that here.