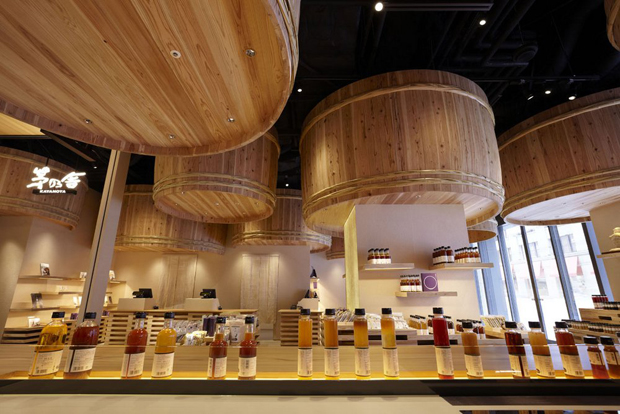 Kengo Kuma rolls out the barrel in Tokyo
Kayanoya in Tokyo is latest - perhaps greatest - example of architect's current wood first approach
Renowned Japanese architect Kengo Kuma is a keen user of what Brits call timber and Americans call lumber. His pineapple cake shop in Tokyo features old-school Japanese architecture, with intersected slats, and his Starbucks interiors at Dazaifutenmangu Omotesando shrine comprises 2,000 stick-like parts.
Meanwhile, next year, travellers using Tokyo's Keio Takaosanguchi Station will be treated to a gently curved wooden roof. You can see some of the above projects at his practice page in the wonderful online Phaidon Atlas.
Now, Kuma has continued this wood theme by rolling out the barrels for a soy sauce manufacturer. Kayanoya, which has been in business for more than 120 years, tasked the architect with breathing some new life into its outdated shop in Nihonbashi, a large business district of Tokyo.
Kuma and his team went back to basics for the project, paying a visit to Kayanoya's warehouse on the island of Kyushu for inspiration. This is a traditional set-up full of cedar barrels and specialised cedar trays which are used in the making of soy sauce.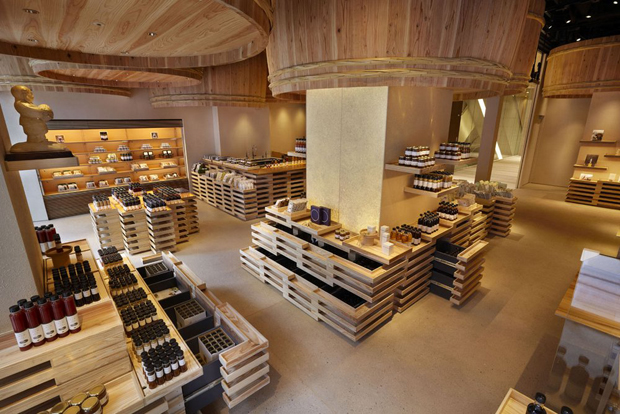 "We wanted to bring in an impact that these powerful utensils suddenly emerge in the town of Nihonbashi, Tokyo," say the architects. So in the shop, large barrels are hung from the ceiling and trays are artfully stacked to form merchandising units. Even the square tasting bar area has low walls of stacked trays, which support a solid cedar counter. A long sleek table and its accompanying chairs are made from the same wood. All the cedar was sourced from Kyushu, and Kuma commissioned local craftspeople to make the barrels and trays.
"Community-oriented design is one of our goals, and in this shop you can experience a variety of skills and the strength of Japanese manufacturers," say the architects. In fact the shallow rectangular trays are so stylishly simple that customers must be asking if they are for sale.
You can check out other Phaidon.com stories on Kengo Kuma here and delve deeper with his practice page in our wonderful online Atlas. You can sign up for a free trial of the Atlas here.