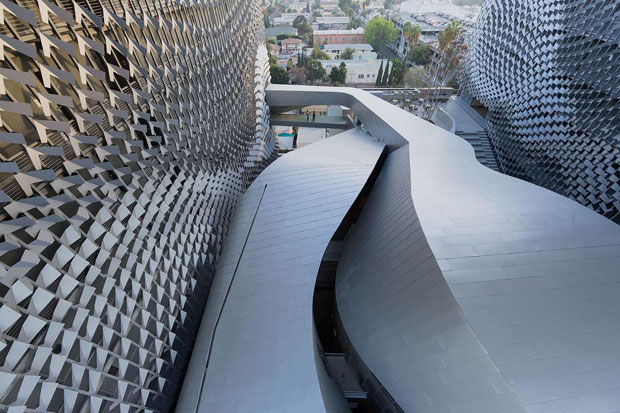 Morphosis brings a touch of New York to Los Angeles
Emerson College evokes concentrated energy of East-coast metropolitan centers in an iconic LA setting
The brilliant American architect Thom Mayne is on home ground with his latest project. He studied at the University of Southern California, co-founded SCI-Arc, the Southern California Institute of Architecture, and has based his practice Morphosis in Los Angeles.
The latest jaw-dropper to emerge from Morphosis is a new home for the film and media students of Emerson College's off-shoot in LA – ELA - on Sunset Boulevard.
Amazing to think that from this month some 217 ELA students will actually be living in Mayne's aluminium-clad structure, sharing space with instructional facilities, and administration offices.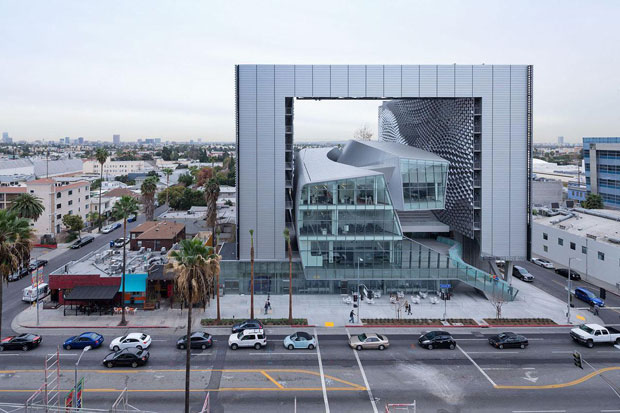 "Composed of two slender residential towers bridged by a multi-use platform, the 10-storey square frame encloses a central open volume to create a flexible outdoor 'room'," says Morphosis. In the void between these towers is a sculptural volume containing lecture halls and studios. Meanwhile the platform doubles as a heliport.
The architects have had some fun turning the local vernacular on its head. Hollywood film studios tend to be simple boxes with all the fantastical action happening on the inside. The ELA building, however, is as exciting on the outside as it is on the inside.
ELA students are in good architectural company, as another famously eye-catching academic building by Morphosis is the Cooper Union in New York, which boasts a stacked vertical piazza.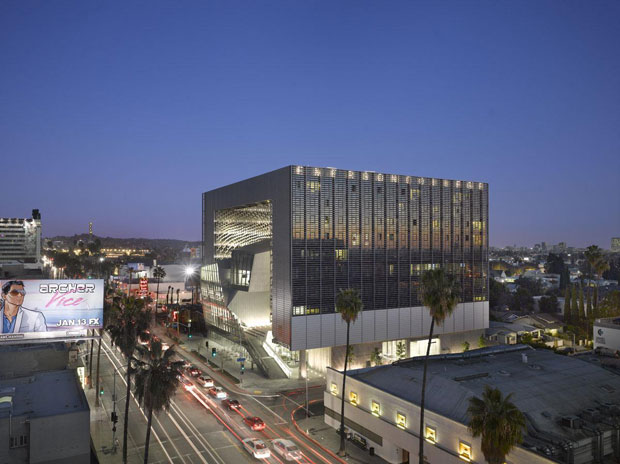 Part of the description of the new building on the architects' site reads: "Evoking the concentrated energy of East-coast metropolitan centers in an iconic Los Angeles setting, a rich dialogue emerges between students' educational background and their professional futures. Bringing student housing, instructional facilities, and administrative offices to one location, ELA condenses the diversity of a college campus into an urban site."
For more on contemporary building, please take a look at The Phaidon Atlas of 21st Century Architecture, the Phaidon Architecture Travel Guide App, and our recently launched Online Atlas. You can sign up for a free trial for that here.