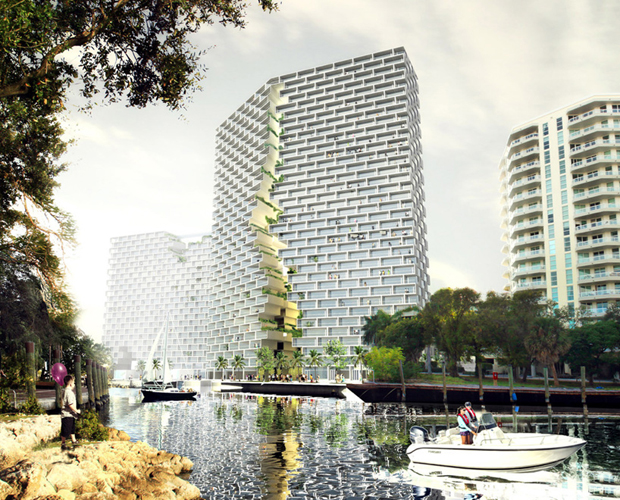 BIG architects tear it up in Fort Lauderdale
Two buildings are 'torn open' giving the neighbourhood access to the canals
It's difficult to think of a city which isn't intent on regenerating its waterfront. Seasides, rivers, canals and even streams can add value, and with some well-thought out development around some pleasing waterside walkways, a once-neglected quarter can thrive. The numerous success stories are there to see – London's Butler's Wharf did it with the helping hand of Terence Conran.
Fort Lauderdale in Florida is already known for its watery attractions. The city plays host to around 10m visitors a year, many of who come to see its extensive canal system. This is, after all, the 'Venice of America'. It's also a major yachting centre with more than 100 marinas and boatyards and over 42000 yachts anchored there.
Despite all this, the city still has some under-developed pockets of waterfront. Hence the commissioning of BIG by the Florida-based development company Cymbal to fashion a $250m mixed-use scheme on a run-down stretch of the New River. The site is an industrial gap in the city's Riverwalk Park. Called – somewhat misleadingly – Marina Lofts, it will comprise 1000 rental apartments, 10,000 sq ft of restaurants, 25,000 sq ft of shops, and generous public spaces between.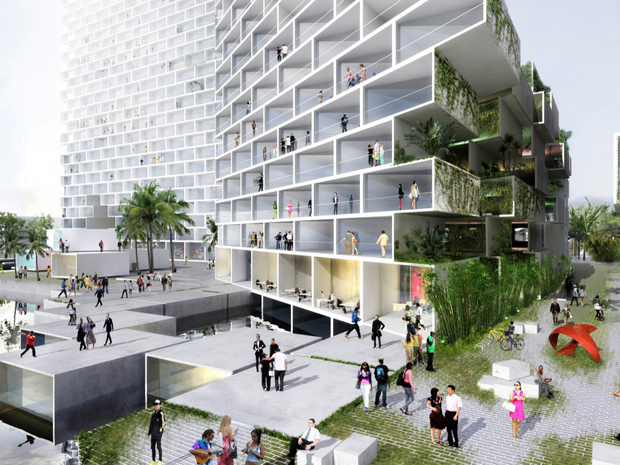 "Our intent here is to create a world class project that will serve as a model for architecture, creativity, and energy along the most prime stretch of waterfront in Downtown Fort Lauderdale," says the owner of Cymbal Development, Asi Cymbal.
But the first phase of the residential towers is unlikely to be without controversy. Rather than a couple of straight-up-and-down blocks, the architects have designed the two together, with a crack or fragmentation seeming to run between them. Their intention is to use this break as a pedestrian access to the river.
Or as BIG's founding partner Bjarke Ingels puts it: "The project fills the gap in the waterfront of Downtown Fort Lauderdale, stitching the existing fragments of promenade together into a new and revitalized river park adding density and life to the scenic setting. The two buildings are torn open to form a cave and a canyon – opening up for the neighbourhood to reach the river. A design made through subtraction rather than addition."
This jagged divide also allows for different apartment sizes the higher up the building you go – a refreshing change from the usual restricting grid pattern. Work on the first of the three phases of Marina Lofts is due to start in December.