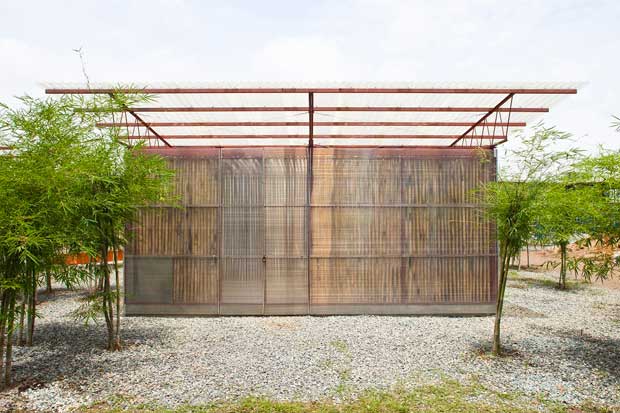 The Atlas takes a big look at some small buildings
New Editors' Focus feature lays bare the most diminutive buildings on the site
Keen Phaidon.com readers will probably know a bit about Phaidon's newly launched Online Atlas, the dedicated architecture resource website for Architects and students of architecture (and those of us whose interest goes beyond merely poring over a picture or two).
The site, which features over 130,000 images, 3,079 projects from 1,537 architects in 115 countries around the world is an invaluable aid to anyone who works in the industry and needs to know who did what, where and how.
However, we thought you might like to know about a neat piece of editorial the editors have introduced in which they pick up on a trend or focus on a specific aspect of architecture or an architectural project each week. It's called Editors' Focus and This week's inaugural feature was on small buildings.
For it, the Atlas editors came up with six small but perfectly formed structures among the 3,000+ buildings on the site. Among them were Diogene, Renzo Piano's experimental minimum house, Nenad Fabijanic's public lavatory in Croatia and Jakub Szczesny's Keret House.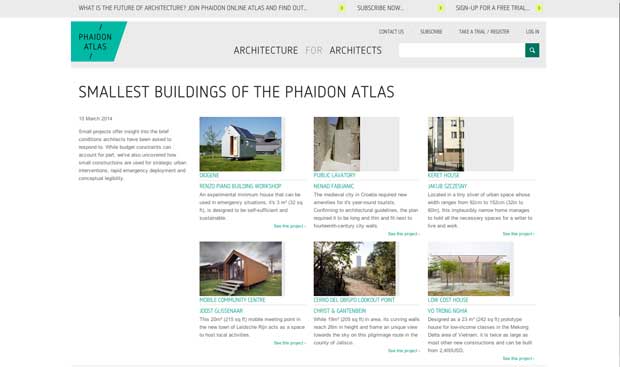 You can click on the landing page for the story here and after registering go through to read all about each fascinating project. All in all, it's an easy way in to finding the kind of content that will really nourish and enrich the committed architecture lover's knowledge.
Incidentally, you may be interested to know that the Atlas team have just started tweeting at @phaidonatlas check out their tweets and be sure to favourite and retweet anything you like - we're sure you'll find lots that you do.
For a limited time, anyone tweeting an Atlas project - any project - will be rewarded with one week's free subscriber access to the site. You can find out more about the Online Atlas here.
Meanwhile, for more on contemporary building, please take a look at The Phaidon Atlas of 21st Century Architecture and the Phaidon Architecture Travel Guide App.