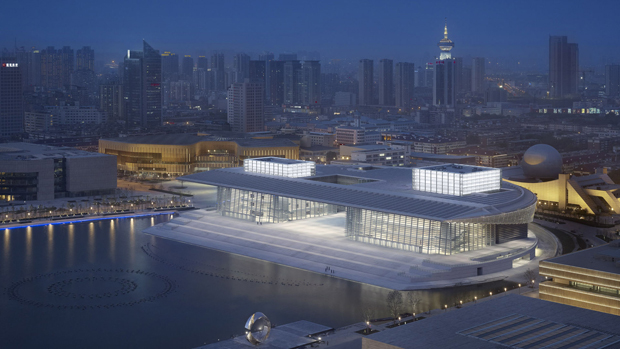 GMP's very Grand Theatre
German architectural giants Architekten von Gerkan, Marg und Partner (GMP) create shell-like theatre in China
German architecture giants GMP (von Gerkan, Marg und Partners) have come up with yet another successful project in China. 130km south-west of Beijing, the 12m-strong city of Tianjin has a newly-created Culture Park of Tianjin, which now boasts GMP's Grand Theatre. This semi-circular lakeside beauty borrows some of its aesthetic from its location. The shell-like structure is intended to gently cup three 'pearls': an opera hall, concert hall and a small multifunctional room.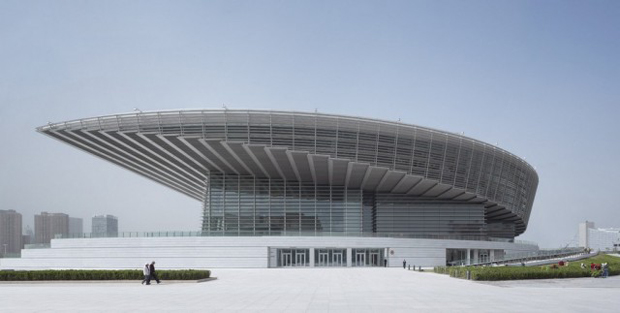 As well as drawing inspiration from the setting, GMP had an eye on vernacular architecture. "The roof construction is a transformation of the traditional Chinese element of multiple eaves and thus defines a system of common horizontal layers, which creates an architectural entity of roof, façade and stone base," say the architects.
A wide cantilever juts out over the promenade, helping to shelter pedestrians from the sun. From there, wide steps lead down to the waterfront. Visitors travelling to the theatre from afar will get the full GMP experience. The Tianjin West Railway Station is also their work. The barrel-vaulted creation opened last year. For similar examples of cutting edge, well thought out and executed architecture take a look at the architecture shelves in our online store. And don't forget if you join Phaidon Club, you'll get points towards future purchases.