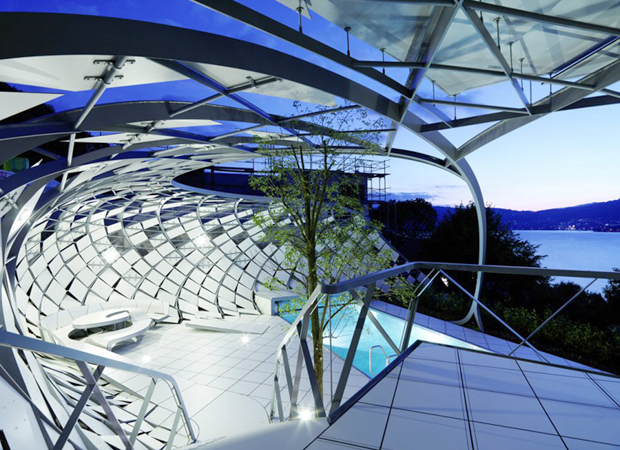 Heri & Salli's ultimate garden fence
Viennese architectural duo design dramatic swirling structure around Austrian residence
Viennese architects Heri & Salli are the masterminds behind this modestly named Landscape Fence. The architectural duo's elegantly designed structure was created with the purpose of providing privacy for the residents of the home and it's fair to say that the sheer size of this huge metal wave in the Austrian landscape provides more than enough interest to prevent anyone looking any further.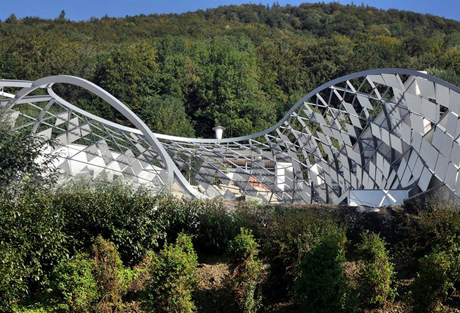 Distanced view of Heri & Salli's 'Landscape Fence', image copyright Paul Ott
Heri & Salli's ambitious and unconventional take on an often far from inspiring piece of engineering envelops the house, swimming pool and deck area. The structure is made from diagonally patterned metal strips that are intermittently solid and hollow, therefore providing privacy at the same time as allowing plenty of natural light in to the grounds. The cocoon-like 'fence' also integrates stairs, seating and tables which emerge and retreat from the surface.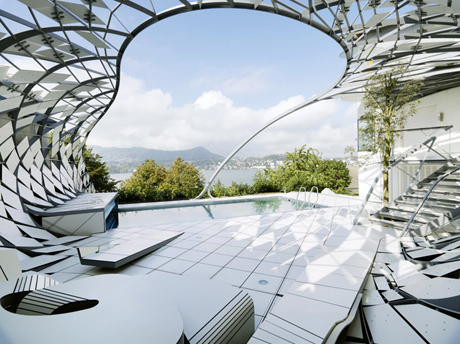 View to landscape through Heri & Salli's 'Landscape Fence', image copyright Paul Ott
Last year Heri & Salli created Flederhaus in Vienna, Austria, a publicly-accessible structure shaped like an open house filled with hammocks.