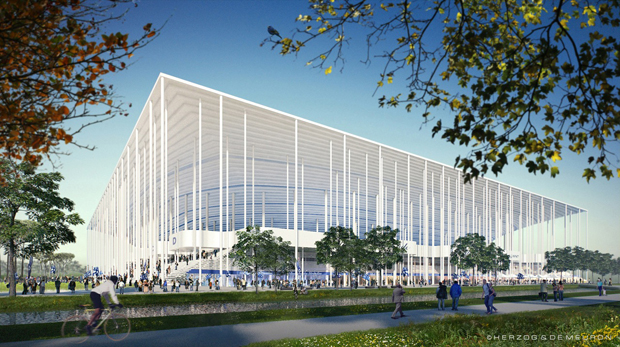 Herzog & de Meuron elevate the beautiful game
Swiss architects break ground on Stade de Bordeaux - home to Euro 2016
While in the UK football fans are still reeling from an appalling biting incident at the weekend involving Liverpool FC's Luis Suárez, over in France loftier minds are at work elevating the beautiful game. They are, of course, Swiss architects Herzog & de Meuron who's Stade de Bordeaux broke ground last week.
The stadium is a solar powered 43,500 seater designed for the Euro 2016 championship. The environs feature a solar photovoltaic plant that will power the stadium and surrounding area.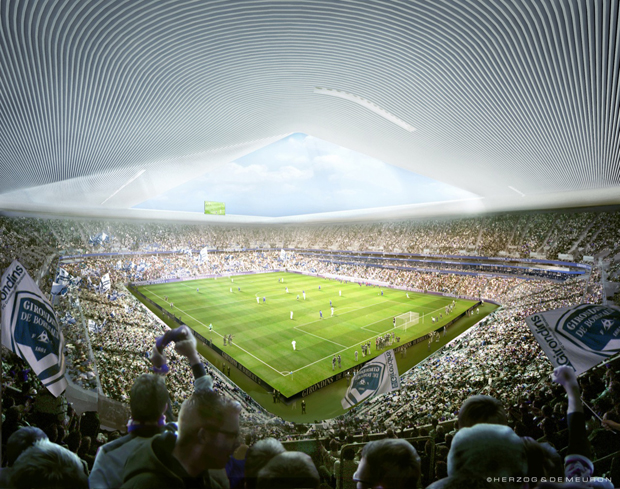 Located in the the Bordeaux lac district, the project brings together three key elements according to the architects. The bowl containing the game and its spectators, the concourse as a transition between the playing field and the outside surroundings and the overall appearance. The stadium's roof will be supported by hundreds of thin white columns.
Herzog & de Meuron explain that "the bowl embraces the playing field, its geometry affording optimal visibility for all, and maximum flexibility of capacity and usage." We can't wait to visit it.
You can see a number of examples of Herzog & de Meuron's work in our full range of architecture books which we urge you to look at in the Phaidon online store. While you're in there, take the opportunity to join Phaidon Club for rewards and special offers. And check out some of our other Herzog & de Meuron online content.