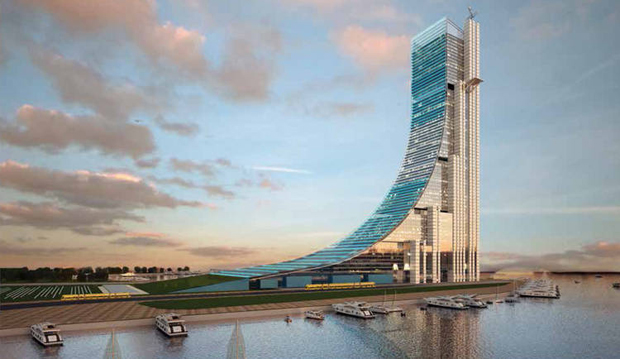 Latin America's tallest tower set for Buenos Aires
Parabolic curve is "a geometric abstraction that represents Argentina" says the government
Argentina has unveiled designs for the tallest skyscraper in Latin America. The 335m-high tower is the design of architecture studio MRA+A which headed off competition from four other contenders. The $300m Cinematography and Audiovisual Tower (CAT) is slated for the Puerto Madero area of the capital Buenos Aires.
Its 67 floors will bring a number of flim and TV functions and facilities under one roof, including TV and film studios,offices, archives and workshops, the Museum of the History of Argentine Audiovisual Arts, the national Institute of Cinematography and Visual Arts, as well as production suites. Meanwhile, a hotel will take up prime position on the top 13 floors.
The architects' design borrows from the parabolic curve – where a curved line is formed from a criss-crossing of straight lines. So it starts as a low-rise building at one end that rises into a tower, presenting a vertical façade to the waterfront. This, according to the government announcement, is "a geometric abstraction that represents Argentina".
At 335m, the CAT is not only loftier than the 300m Costanera tower in Santiago, Chile, by Argentinian Cesar Pelli, and taller than the 330m Insignia Tower going up in Mexico's Monterrey, but it beats Renzo Piano's Shard in London by around 30m. In fact in the whole of the Americas, it will only be surpassed by the Empire State Building in New York and Chicago's Sears Tower. Building work is due to start in next year, with the building ready to go in five years' time.
If you're interested in finding out more about new architecture going up around the globe you might like to sign up for a free trial of our online Atlas. The greatest online resource available it gets you closer to the world's greatest buildings and the architects who created them. Search for inspirational projects and practices, save your favourites and share them with friends and colleagues.