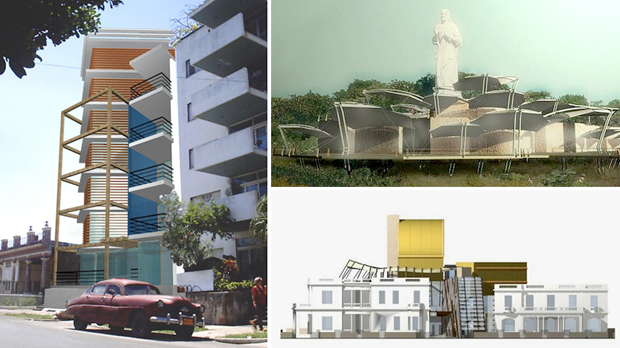 The Cuban (architectural) revolution
A new Havana is slowly taking shape amid the crumbling facades of the old one
Though few will have heard about it yet, it seems there's a quiet revolution going on within Cuba's government controlled offices for architecture. In the capital Havana - where virtually all local building projects are restorations of crumbling, formerly ornate structures - the government run Office of the Historian of Havana architect Claudia Castilllo and Director of Urban Design Orlando Inclán have a different future for the city in mind.
Inclán and Castillo together with a small core of young Cuban architects have showcased a portfolio of conceptual projects in the local Havana arts and culture magazine Dédalo. Published by the youth arm of Cuba's official artists and writers union, it is the first time that a government organisation has engaged in transformative architectural ideas of this kind. The publication insisted that new construction be contemporary, and constructively critical of Cuba's leadership. "Almost all of us agree that our ideas should be contemporary, coherent as much with our context as with what is happening around the world today," wrote Ángel Michel Domínguez.
Neither architecture nor industrial design are listed among nearly 200 professions legally privatised in Cuba and since the government funds university education, professions that require degrees remain in the public sector. As a result, the majority of design-minded professionals ready to push the boundaries of modern Cuban architecture leave the country and its restricting faded colonial buildings behind.
Signs of modernity however, are creeping into Havana. Inclán and Marilyn Mederos have updated the traditional single-family tropical modernist style home with slim wood and metal slats in their plan for an asymmetrical apartment building in downtown Havana and Ihosvany de Oca has proposed an outdoor pavilion of tent-like structures creating a shaded public space around the base of the historic Christ of Casablanca statue that towers on a hill across the bay from Old Havana.
The first stirrings of this new revolution can perhaps be traced back to 2009 when an art space, Factoría Habana, opened in downtown Old Havana. Keeping the shell of the early-20th-Century industrial building, the architect Abiel San Miguel, working through the historian's office opened up the cavernous space with a skylight, which cuts through the buildings three floors, and used materials which, although common elsewhere, had never been used in Havana before. The polished concrete floor seemed "like science fiction" to the workers used to laying decorative tiles, says the galleries founding director Concha Fontenla.
Inclán insists that now is an important moment for contemporary architects, a moment in which the role of the designer is becoming ever clearer: "With the openings of new small businesses, the city has gone through a transformation that's assaulted its urban image," he says. "The media has been insisting on compliance with the urban regulations, but people don't have to know the rules - the architect does."