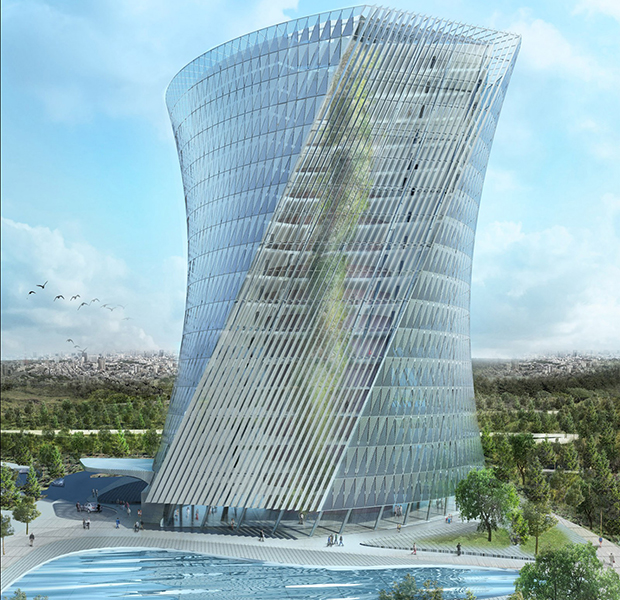 Coop Himmelb(l)au's Flying Garden Tower
The Austrian practice designed this centrepiece tower for Frankfurt's new airport
Just as Coop Himmelb(l)au's new premises for the European Central Bank in Frankfurt nears completion, the Phaidon Atlas-featured Austrian firm announces another major project in the city. Where the ECB's double-tower HQ was tall – 185m – the Flying Garden Tower is a chubby ellipse. The structure is destined for the Gateway Gardens of Frankfurt City Airport – a 35-hectare urban development near Terminal Two, where businesses are being encouraged to erect jaw-dropping HQs. Come 2021, this district of hotels, offices, exhibition halls and restaurants is expected to feature "modern architecture and plenty of soothing greenery" and will open up "diverse possibilities in a high-quality urban atmosphere", according to the scheme's organisers.
The 67m-tall Flying Garden Tower is sure to turn heads as passengers come in to land and as motorists pass by. Wolf D Prix, leader of the Austria-based architects, intends the company's polygonal design to act as a landmark in the new district.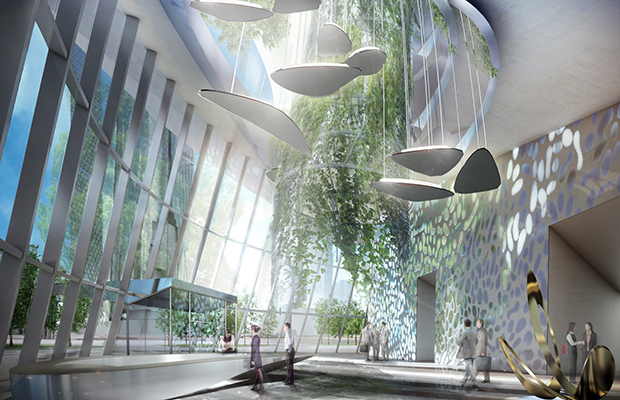 But there's a practical element to the form too. "The elliptic shape and orientation of the building optimise its climate efficiency," acording to the team of architects. "The east and west facades, which are subject to high solar exposure, are protected by the buffer zone of the atriums as tall as the building itself with suspended 'flying' gardens."
The balconies will curve organically around the void, making the building feel more like a futuristic hotel than mere corporate workplace. Actually, the suspended foliage may resemble hanging gardens more than flying ones, but with an airport as its neighbour, we feel that Coop Himmelb(l)au, in this case, has a degree of poetic licence. To learn more about this great European architecture practice visit their page in the Phaidon Atlas, our peerless resource. You can sign up for a free trial here.