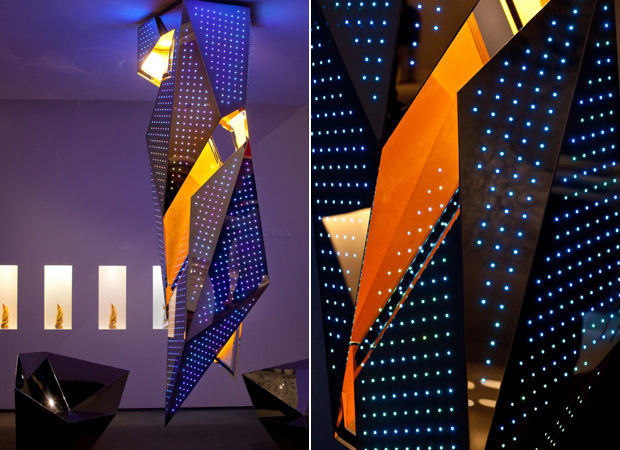 Daniel Libeskind's lighting design creates a Big Bang
Architect teams up with astrophysicist son Noam for chandelier that embodies the history of the universe
Architect Daniel Libeskind is well known for embracing the idea of high concept with his buidlings. But for his first ever piece of furniture he's gone one step further and employed the seemingly equally considerable talents of his rocket scientist son Noam to help him unlock the secrets of the universe.
Libeskind has teamed up with Austrian high-end lighting company Zumtobel to create a chandelier that translates the drama of his architecture in to a smaller scale sculptural form. The lighting fixture, _eL Materpiece _possesses the same jutting angles and flat surface plains that characterise so many of his buildings.
But while the piece may be smaller in size to Libeskind's past-work at 9 feet-tall and 2.5 feet-wide, it embodies some huge ideas. Encased within the cascading stainless steel structure (the inside of which is lined with 23 carat-gold-leaf) are 1,680 specially designed LED lights that mimic the cosmic light that fills the universe via a 7 colour sequence.
Libeskind's son, astrophysicist Dr. Noam Libeskind designed a complex algorithm that replicates the changing light of the universe as it has expanded over 14 billion years and has condensed this into a 14 second loop. The loop was then transferred onto the LEDs, each one representing an element of outer space. "We're trying to tell the history of light," says Libeskind. "How it light evolved in the universe, how it was created and absorbed and re-emitted."
For the dedicated design collector, a limited edition of 25 eL Masterpieces will be made available to buy (price on request). You'll need a secure ceiling - it weighs around 350lbs (160KG). Naturally, it can be controlled from an iPad.
This is Libeskind's first venture into the world of lighting though he is the fourth leading creative to join forces with Zumbotelin its 'Masterpiece' series. The company has also collaborated with artist Olafur Eliasson (Starbrick, 2009), architect Zaha Hadid (VorteXX, 2005) and architect, artist and designer Hani Rashid (LQ-P Chandelier, 2005).