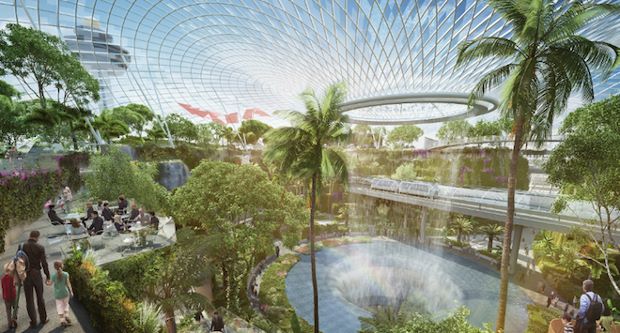 Moshe Safdie's tropical airport complex
Can Moshe Safdie and Associates Project Jewel turn Singapore's Changi Airport into a genuine tourist attraction?
In Singapore, contemporary architecture often comes with a healthy portion of greens, as the recently completed indoor and outdoor leisure development, Gardens by the Bay, shows.
Now, one of Canada's most well-known architectural exports, Moshe Safdie, is adding to that with a biodome. However, while the Gardens by the Bay are literally on the waterfront, the Israeli-born architect's efforts centre on Changi Airport.
76-year-old Safdie, who made his name with his Habitat 67, a model community and housing development in Montreal, has designed Project Jewel. It's a five-floor glass-and-steel retail and entertainment attraction, with garden foliage restricted to the top floor. Up here, the ceiling will dip in the centre, like a doughnut, and a waterfall will be directed through the hole in the roof. The dome will be accessed from the terminals via glazed walkways.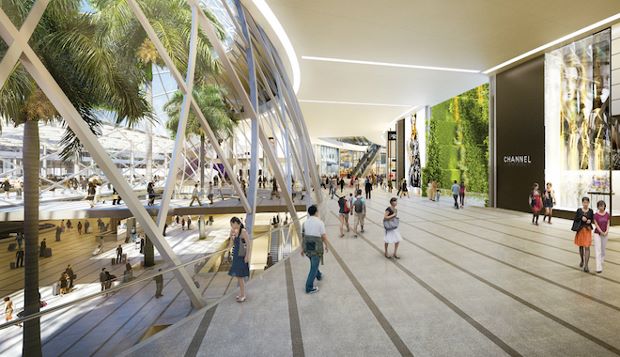 It's not Moshe Safdie and Associates first airport. Their Terminal 3 at Ben Gurion International is one of the projects featured on their practice page in the online Phaidon Atlas.
Lee Seow Hiang, Changi Airport Group's CEO, sees Safdie's scheme as appealing to international travellers and locals alike. "For tourists, we envisage Project Jewel to be a must-visit Singapore attraction, located strategically at the doorstep of one of the world's busiest air hubs," he says. "For Singaporeans, it will be an exciting world-class destination right here at home, where they can relax and enjoy with their loved ones, again and again."
It all sounds rather spectacular, and will make an aesthetically pleasing change from the car park at Terminal One that it will be replacing. The plan is for the $1.5bn 'jewel' to be part of the airport's current expansion plans, which focus on a new Terminal Four by Singaporean firm SAA Architects for 2017.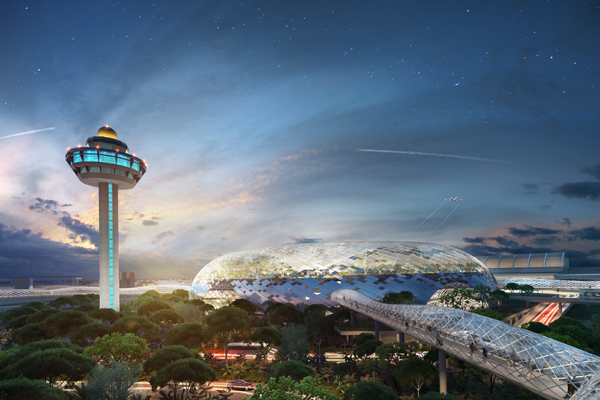 This should give Changi – already the world's fifth busiest airport – capacity for 85m passengers. In the meantime, fans of Safdie's work can nip over to the three-towered Marina Bay Sands, which he completed in 2011.
We urge you to take a look at Safdie's practice page in the Atlas. If you like what you see you can sign up for a free trial here. It's an innovative digital platform for discovery, inspiration and learning for the entire architecture community.