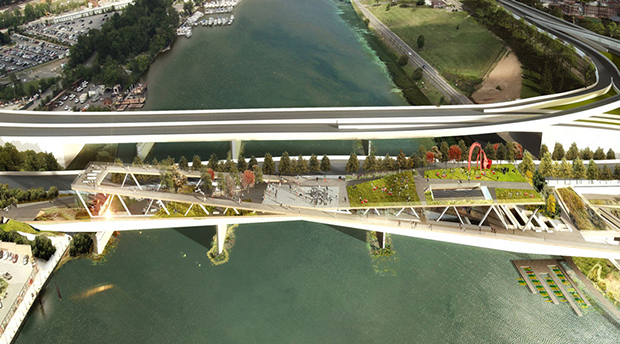 OMA reinvents the bridge (again)
Rem Koolhaas's practice manages to close the gap between two distinct Washington DC communities
Elevated, park-like walkways are all the rage at the moment. The third and final stretch of New York City's High Line opened last month, by landscape firm James Corner Field Operations and architects Diller Scofidio + Renfro; there's Thomas Heatherwick's proposal for a pedestrian bridge-plus-garden across the River Thames in London; and now the winners of a competition to design a garden bridge in Washington DC have been announced. A bid from Rem Koolhaas's Office for Metropolitan Architecture and landscape firm OLIN beat more than 40 other submissions, to clinch the rights to build this new project.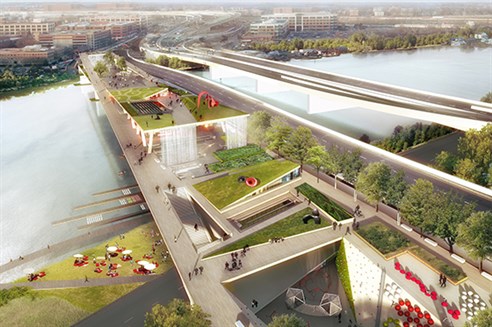 The 11th Street Bridge Park will cross the city's Anacostia River, linking two very different neighbourhoods: wealthy Capitol Hill and low-income Anacostia. With a price tag of £22m, OMA's scheme fulfils the brief of finding an alternative use for a set of piers that once supported an older road bridge. As well as accommodating a park, there will also be room on the crossing for a café, a boat launch, a picnic area, an amphitheatre and a 'hammock grove.'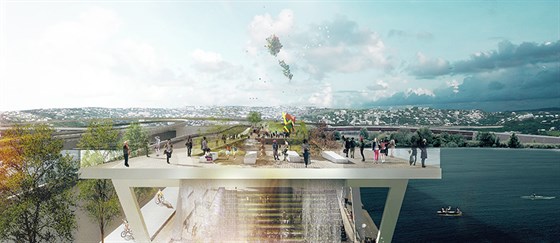 However, the main feature will be a waterfall that filters river water that has been long-polluted by the nearby Navy Yard. OMA and OLIN's design accommodates all this by splitting the bridge into two planes, which meet in the middle to form a cross. The bridge's lower reaches will house semi-sheltered facilities, such as a performance space, while the tops of the cross will accommodate gardens and viewing points.
As Jason Long, OMA's partner-in-charge, puts it: "Our design creates a literal intersection and a dynamic, multi-layered amenity for both sides of the river. It simultaneously functions as a gateway, a lookout point with expansive views, a canopy that can shelter programs and a public plaza where the two paths meet." Expected to be ready in 2018, the bridge is a joint effort by city government and a not-for-profit organisation.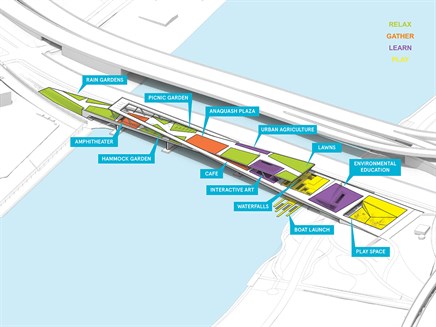 For further more innovative architectural projects like this go to OMA's page in the Phaidon Atlas, our peerless online architectural resource. You can also sign up for a free trial here.