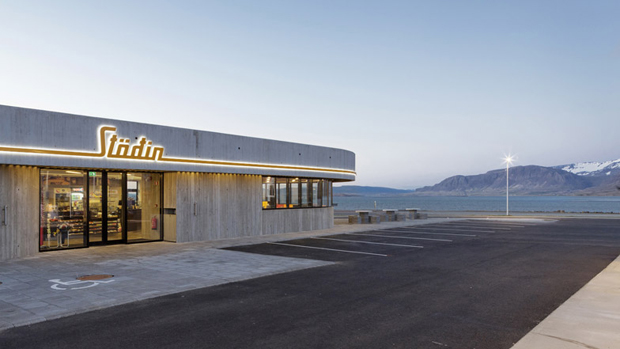 Phaidon's eye on the architecture world - 04.07.12
This week's international round up takes in Iceland, Germany, America, the UK, Holland and even Timbuktu
Americana heads far north It may look like an American diner, but it is in fact a service station for Skeljungur, the Icelandic branch of Shell. It's the work of Iceland-Denmark practice, KRADS, and it stands on a remote coastal road at the Stöðin Roadside Stop, to be precise. Inside the curved building it's a cocktail of industrial chic and bright cushioning.
Cork gets a make-over Since the introduction of screw caps and plastic 'corks' in wine bottles, the Portuguese have been scratching their heads – what to do with all that eco-friendly cork? Trust a young thing to come up with a fresh solution. Gabriele Gomez has fashioned a cylindrical sculptural resting place out of it. Called Shelter byGG, it's got a living room and WC, and is intended for installation in public places.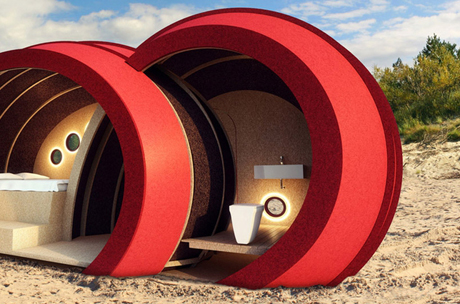 Buckminster Fuller does Frisco Buckminster Fuller may never have lived in San Francisco, but that's not stopping the city's SFMoMA. Its latest show – The Utopian Impulse: Buckminster Fuller and the Bay Area - explores the influence that 'Bucky' had on his creative successors in the area, and is an excellent excuse to revisit his most iconic designs. The show runs until July 29.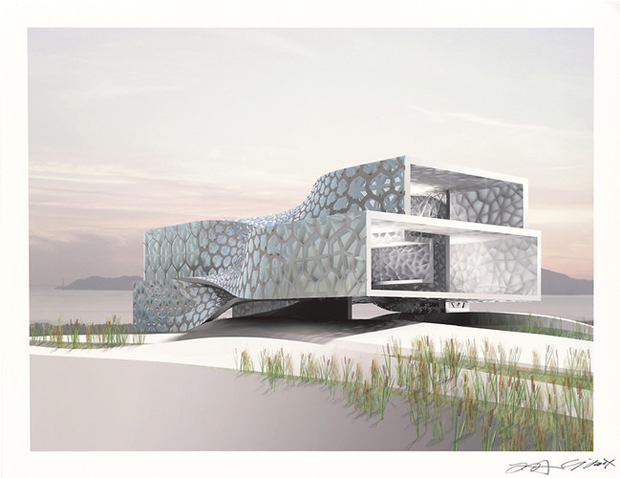 Young ideas for Harlem This year's ideas competition courtesy of the Emerging New York Architects (ENYA) Committee concentrates on the regeneration of the city's West 135th Street marine transfer station. The intention is to forge a link from the water to the neighbourhood. Titled The Harlem Edge: Cultivating Connections, the entries are on show at the Center for Architecture from July 12 to October 31.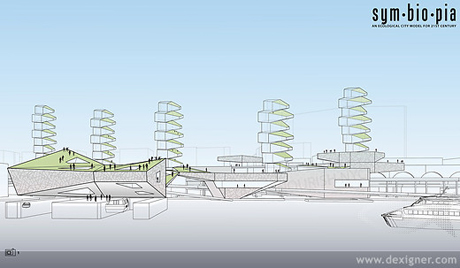 Animal architecture, Danish-style It's not only the penguins at London Zoo who are benefitting from contemporary design. Great Danes Henning Larsen Architects have dreamed up a fantastical zoo space designed for the Dutch city of Emmen. Come 2015, exotic creatures will be housed in a curving, sweeping, part-glazed, part-al fresco structure. The 16000-sq ft zoo is being designed with Dutchmen Van Der Berg Group.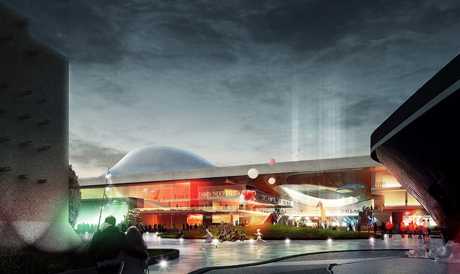 Japanese-inspired furniture Oki-nami is a stylish Japanese restaurant in Brighton, and winner of an International Restaurant Award. Nazanin Kamali can take some credit for that, as she designed its furniture. Kamali, who designs for The Conran Shop, Heals and the like, has seen these Oki-nami table (£795), chairs (£250) and bar stool (£225) produced for public consumption by up-and-coming British furniture brand, Case.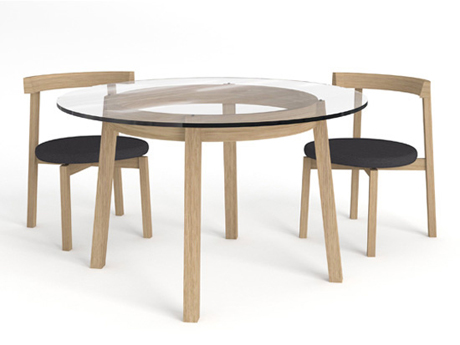 Pre-fab sleep-overs This week, the first CitizenM hotel in London opened in Bankside. The CitizenM chain describes itself as 'budget luxury'. That means it looks the part, with 'architect-designed' spaces, and furnishings by Vitra, but the rooms themselves are flat-pack. That's to say, they're prefabricated. The process - called Industrial, Flexible and Demountable – involves pre-assembling each room in a Dutch factory owned by the hotel group, and shipping it to its destination. A round of applause to Concrete Architects in Amsterdam.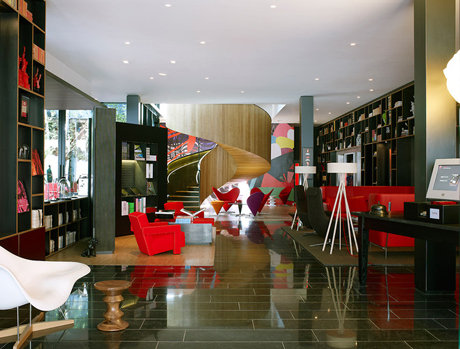 Iconic mosques attacked for being 'un-Islamic' Unesco has declared Timbuktu an endangered world heritage site after al-Qaida-linked rebels attacked the sacred door of a 15th-century mosque. The Islamist militants claim the sun-baked mosques with palm trees protruding from earthen walls, are idolatrous and contrary to their strict interpretation of Islam. "In Islam, there are strict laws about the way and size in which tombs are built," said a spokesman for the rebels.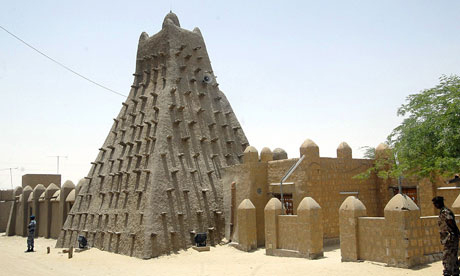 And finally. . . A case of success breeding contempt? Wolf D Prix is the hugely successful founder of international stars Coop Himmelb(l)au. His are the creative juices behind the likes of the Dalian International Conference Centre in China and BMW Welt in Munich. He's been in business for around half a century, but now he says "being an architect is a shitty job." He blames, in part, the 'suits'. "In Germany, the project managers are the most important guys and they are really killing architecture… they try to get control over everything and they don't understand what architecture is."